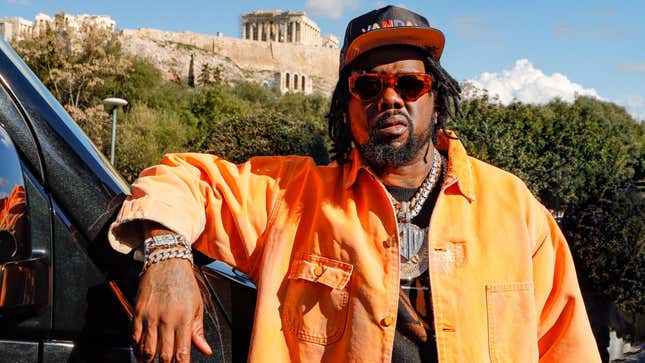 "I'm just one of them ones, man."
In speaking with The Root, that's how Demond Price, better known as Conway the Machine describes himself as an MC. It's as if he knows he's better than many of the rappers out currently, and he's not wrong.
Making Love Songs: The Story Behind Method Man's "All I Need"
Releasing his first official Griselda Records mixtape in 2015, Conway has been on an indisputable run for the last eight years, dropping quality projects for years to lead him to his most recent and complete album, Won't He Do It, which cements him as a lyrical genius in the world of rap.
Yeah, I know. A lot of rappers think they are, but how can you not listen to this track and not feel the same?
Although it's time for Conway to have his moment as the star of Griselda Records, he was not always thought of as one. Don't get it twisted: his talent as a wordsmith was never questioned. But because he was such a great rapper, that seemed to be his main focus. Notoriety was not his focus, giving you great bars is what he cared about.
He even says it on "6:30 Tip-Off" from his 2021 mixtape, La Maquina: "They say West is the brains behind it and Benny is the star/But let's not act like Machine ain't the silliest with the bars."
But after years of being patient, Conway isn't waiting anymore. It's his moment, and he's taking it.
"I feel like the timing was perfect," said Conway. "Who knows if I would be the artist and man I am today if everything happened for me when I was 18 or 19? I'm just thankful for the journey, everything is a blessing, and the time it took for me to make it is a blessing. God is the greatest planner."
Yes, he is. And God's timing was impeccable when it came to the release of this album. Won't He Do It is like a third sequel to Conway's previous two studio albums, God Don't Make No Mistakes and From King to a GOD. He sees his albums like movies—and as a film lover, Conway purposefully kept a similar theme for these three albums to create a statement to inspire and motivate.
"I'm a heavy movie watcher. I enjoy the making of the film and production," said Conway. "I try to make my albums like a movie. This album is like the third piece to a statement. 'Look where I came in this journey. I was a reject too. Look what I became. God Don't Make No Mistakes. Won't He Do It.' All of my previous albums add up to a statement. My albums are motion pictures."
Listening to this album, Conway was a master director behind an incredible musical film. Won't He Do It spectacularly shows off his lyrical prowess in a variety of ways. He has the amazing ability to make the most beautiful and elegant production sound like the hardest shit you've heard in your life.
For example, the music behind "Brooklyn Chop House" sounds like it should be played in a ballroom more than it should be a hip-hop album. But when Conway hops on it, it's the grimiest thing you've listened to this year.
A track like "Brucifix" sounds like it should be used in a 70s car chase scene, and yet, Conway floats on the track effortlessly.
It doesn't matter the beat you throw in front of him, it doesn't matter the features included on the record, the Buffalo MC consistently continues to be the star on every track.
Even with his incredible skill, Conway isn't taking any of it for granted. As a man who almost lost his life in 2012, he's ensuring that his fans know his journey, and understand that there is a way out.
"It's important for me to constantly share my message and story with my fans," said Conway. "It's for motivational purposes, you can look at a guy like me and as someone who had the deck stacked against him and still came out on the other side."