Here are two brands, both made by friends of mine, that take the concept of clean beauty to the heights of purity.
Let's start with Therese Clarke, who is a green chemist. Her beauty-brand agency, Creme Collective, is behind the mixing, marketing and manufacturing of some of the biggest names in organic beauty—Juice Beauty by Gwyneth Paltrow ring a bell? Clarke became a green chemist in the quest to help heal her partner, who was suffering from cancer. She and the crew at Creme Collective brought Patyka, a brand born in France in the 1920s, stateside in 2017. Today it is the first-ever eco-certified luxury skin-care brand.
Similarly, Tina Hedges was a top executive at L'Oreal in product research and development and marketing before she came to a point where "years of slathering chemical-laden lab samples all over my body while testing new beauty products had also wreaked havoc on my skin, hair and nails." She was prompted to create a BIY—that's "blend it yourself"—beauty brand named LOLI Beauty.
What these beauty entrepreneurs also share are waterless formulations for their product lines. Water is not only our skin's most basic requirement and precious resource but also our planet's lifeblood. Neither brand uses water as a filler for its formulations, so as a consumer, you are neither paying for nor wasting water when you buy these products.
G/O Media may get a commission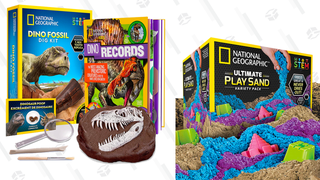 Up to 33% off
National Geographic Science and Activity Kits
Based on a Japanese skin-cleansing ritual that lasts for hours, Patyka reduces the routine to a five- to 10-minute, four-step skin-care regimen using 99 percent organic and 100 percent natural ingredients with excellent results—because none of us have that kind of time on the regular, but we all want those kinds of results.
I'm a huge fan of Patyka's Remarkable Cleansing Oil and the Cleansing Perfection Foam because it deep-cleans my face after heavy makeup and hard workouts in the gym without stripping my skin.
LOLI, which stands for "Living Organic Loving Ingredients," goes beyond the purity found in its food-grade organic bases and mixing elements. It's a "people-free" brand committed to ethical treatment of people, plants and animals (which are never used in testing) all along the supply chain.
In a press release, Green says that "60% of millennials are blending their own beauty products." In a generation that's increasingly putting their money down for transparency and ethically sourced goods, LOLI is on to something that's good for everybody, even using 100 percent reusable and recyclable packaging—down to the ink of the labels. LOLI also donates $1 of every $75 to the fight to stop human trafficking, in addition to using a software platform to monitor our supply chain.
LOLI is a subscription-based beauty box that you can specify to deliver just once or every two or three months. Superfood-based beauty is the basis of its treatments. Customers choose a base depending on their needs—like the Date Nut Creme Brulee oil, a deeply moisturizing oil for face, body and hair used since the time of the ancient Egyptians.
The LOLI line includes face masks, daily moisturizer and more; you refer to a recipe guide and add in other natural ingredients, like prickly pear added to yam-oil extracts. The combinations and customizations are as unique and as personal as each user.
This Sunday is Earth Day, so it's a great time to consider how our beauty routines affect our environment. Whatever you choose, clean and green beauty is a habit we'd all be smart to adapt—on Earth Day and beyond.