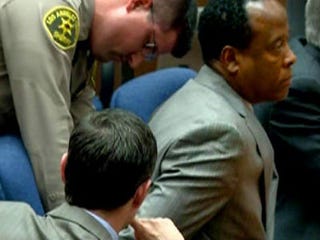 Dr. Conrad Murray, Michael Jackson's personal physician, has been placed on suicide watch at the L.A. County jail after being convicted of involuntary manslaughter, CBS News reports.
Murray faces up to four years in prison. Judge Michael Pastor ordered him to be remanded immediately and held at the jail without bond because the embattled physician "poses a demonstrable risk to the safety of the public."
CNN reports that Murray's defense team has vowed to appeal his involuntary-manslaughter conviction, but it can't do so until after his Nov. 29 sentencing.
Defense lawyer Nareg Gourjian's description of Murray's mental state sounds more positive than the news of the suicide watch suggests. He told CNN that while Murray was "devastated" by the guilty verdict, the doctor is "confident" that he will win the appeal. 
Read more at Uptown magazine.
In other news: Joe Frazier's Fight for Greatness.