The Democratic Party is in its worst shape since 1938 when it comes to seats still held in Congress. Meaning—Dems don't have many.
After losing 63 seats in the House in 2010, Democrats are again dazed and confused, this time over losing the White House to real estate mogul Donald Trump, who shockingly defeated former Secretary of State Hillary Clinton in a final electoral vote count that no one, not even the victor, it seemed, saw coming.
Ironically, there will be a record number of African Americans serving in Congress—52—next year, but 50 of them will serve in the minority party in the House. Can the Congressional Black Caucus find a way forward against the largest group of Republicans in the House since 1929?
"The devil is in the details; we need to know his details. There's more to economic development than the urban centers of America," said CBC Chairman G.K. Butterfield to The Root when asked about whether Trump's professed concern for inner cities during the campaign was real.
"Perhaps there can be some common ground on infrastructure; it creates jobs," Butterfield added. "But that's the top line, not the bottom line. … I think there is opportunity for the Congressional Black Caucus to have common ground with the new administration."
G/O Media may get a commission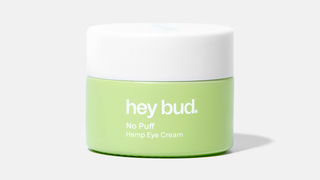 15% off
Hey Bud - No Puff Hemp Eye Cream
Though Butterfield went on to say that Trump's appointment of Steve Bannon as a White House senior adviser was "disgusting" and "not a good way to start his administration," the CBC chairman did attempt to be open to what may come next.
In a Nov. 13 email to fellow Democrats obtained by The Root, Rep. Jim Clyburn (D-S.C.) stated, "Our party's infrastructure has been decimated and our brand denigrated. We must rebuild and rebrand, and we must start now." Clyburn is supporting South Carolina state Chairman Jamie Harrison as the next chair of the Democratic National Committee.
Members of the CBC met for dinner at a downtown restaurant in Washington, D.C., Monday night to discuss what's next. The CBC regularly meets for dinner off Capitol Hill, but this gathering is likely to include a full discussion about what's next for the Democratic Party. A member of the CBC, Rep. Keith Ellison (D-Minn.), is also competing to become the chair of the DNC, and he has several party leaders already supporting him.
"We need to take an assessment about why we are in the place we are in today. I think it is important that we have all hands on deck to make sure that we get this thing corrected. A lot of us know what the problem is. I believe in order to do it, we need to have a DNC chair who is there 24-7. We need a full-time DNC chair," Rep. Marcia Fudge (D-Ohio) told The Root near the House floor Monday night, Congress' first day in session after the election.
Rep. Alcee Hastings (D-Fla.) emphatically spoke to The Root about what the Democratic Party could have done better to get out black voters. Hastings was asked whether the party will ever listen to strategic advice from black elected officials on the ground.
"That's a good question," he said. "I hope so. They did make a course correction in my congressional district about six days before the election because I raised so much sand about it. I still think that disproportionately, money was spent on television—$67 million by the Clinton campaign—and a pittance on the ground by comparison.
"I would have had a considerable amount more money in the African-American and Latino communities being utilized by the people who live in those communities," Hastings added.
The DNC is notorious for "air-dropping" in staff that aren't local to the community they're campaigning in.
"I will never participate in another campaign that does not start with a ground game at the bottom. That includes 2018. We have a Senate race. We have a gubernatorial race. If they're going to wait until two weeks to come to my community, they won't have me active in their campaign," Hastings said.
Hastings told The Root that had the Clinton campaign spent $2 million in grassroots spending on the ground in Florida, she would have won the state. No member of the CBC who spoke with The Root was able to say that he or she was given an active, strategic role in Clinton's campaign, and it's a complaint that is not new.
The selection of the DNC chair will be the first test for the party and black Democrats in the coming days and weeks.
Lauren Victoria Burke is a Washington, D.C.-based political reporter who writes the Crew of 42 blog. She appears regularly on NewsOne Now with Roland Martin on TV One. Follow her on Twitter.