I thought the Michael Jackson: Searching for Neverland movie was going to be some trash. With all due respect to Lifetime, the network gave us the horrible Aaliyah biopic and the not-as-awful-but-close-enough movie about the life of Whitney Houston. I wouldn't be surprised if either one of their ghosts was still haunting all of the executives responsible for those projects.
However, while Jackson's spirit may not be pleased with anyone telling his story without explicit permission—much less on basic cable—this flick was surprisingly not terrible. For starters, it didn't look cheap. More importantly, though, the film was made with a clear respect for the late King of Pop.

Much of that can be directly traced to all who are responsible for this. The film is based on the book Remember the Time: Protecting Michael Jackson in His Final Days, written by Jackson's former bodyguards Bill Whitfield and Javon Beard. And one of the executive producers of the film is Suzanne de Passe, who worked with Jackson as a child when he was part of the Jackson 5.
The movie starts at the point in Jackson's life when he returns to the United States after living in Bahrain. Although he has been exonerated of charges of child molestation, his public reputation is reeling, his finances are sketchy and his friends are sketch. So a reluctant bodyguard takes on a short-term job that turns into an overwhelming gig, taking on the biggest pop star in the world on a major decline.
Frankly, I feel bad for the bodyguards. They're not just the bodyguards. They are best friends. They are partial caregivers. They are personal assistants. They are life coaches in some instances. Their jobs seem stressful as hell. And yet they are incredibly dedicated to Jackson and protective of his legacy.
You can tell that the people behind this movie truly care about him.
The person portraying Jackson is Navi. On Navi's website, his biography declares him to be "the world's number one Michael Jackson impersonator." And he's been performing as Jackson for more than 20 years. Navi nails many of his mannerisms. However, I would add that his British accent went in and out. And moreover, Jackson was a bit skinnier than Navi, but you know, a diet of propofol and KFC is too much to ask of an actor.
G/O Media may get a commission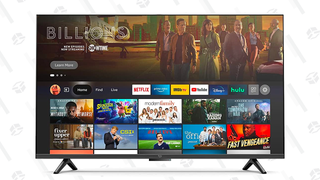 22% off
Amazon Fire TV - 50" Omni Series 4K - Early Access Deal
In an interview with Entertainment Weekly, Navi said: "I want [everyone] to watch this film without a preconceived idea of who Michael Jackson was. Forget what the media said about him. Just watch the film, and then ask yourself one question: 'How different are you?'"
Well, that's a lot on it, but it was surprisingly refreshing to learn a few things about Jackson.

Who knew Randy Jackson was owed money by his brother and tried to storm his Las Vegas residence, and Joe Jackson, whom M.J. had no real interests in seeing, got him off the property? And, by the way, shoutout to Richard Lawson for playing an excellent Papa Joe. I cannot believe Miss Tina didn't tell us on Instagram that her husband was doing this movie.
There are other tidbits, like that Michael Jackson stayed a Jehovah's Witness. He also always brought his own spray butter and hot sauce to the movie theater. Most of all, Michael Jackson loved Bobby Brown's "My Prerogative." Like, he used to eat fried chicken and go off to it.
Other matters were less surprising. Say, Jackson's being late to pay folks, given that he hadn't worked in years and was saddled with lots of debt and high legal fees. So late that one of the bodyguards maxed out his credit cards and nearly lost his family as a result of his working a job for free. It's interesting that for all of the dishonesty they had to grapple with, they still try to paint as sympathetic a picture of Michael Jackson as possible.

Perhaps that's rooted in their seeing a fuller picture of him. And the fact that a genuine love was formed after spending so much time with him and his family. However, when people owe me money, ain't no love in the heart of the city. Especially when Jackson would go shopping (buying daughter Paris Jackson a black doll) knowing damn well he owed them money.
That is real love. Bless all of their hearts.
All and all, the movie was not the shit show I anticipated, but by the end, I felt majorly pissed for the bodyguards. After all of their sacrifices, they were squeezed out on top of not being properly compensated. Still, they gave him a compassionate depiction. Even in death, they protected the legacy of Michael Jackson.
I'm named after the man, but even I wouldn't be so kind about someone who owed me money. I'm glad this movie happened, if for no other reason than that these bodyguards got the checks they have long been due. And they didn't have to shake the table like Randy.
Shamon.