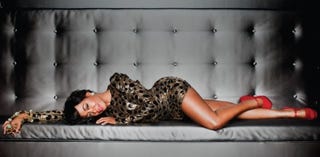 Not many fortysomething actresses can boast a career spanning four decades. Thanks to appearances in early '80s films and starring roles on the now classic Martin and Everybody Hates Chris, Tichina Arnold holds that distinction. And she's still at it as Fran Drescher's best gal pal on TV Land's Happily Divorced. On Uptown, the 43-year-old New York born singer lets loose on marriage, rumors that she's a lesbian and why she loves a good Twitter brawl.
Read More: http://uptownmagazine.com/2013/03/confessions-tichina-arnold/
UPTOWNmagazine.com  is the hub for conversation about luxury lifestyle, entertainment, and pop culture for African-Americans.