It's been 25 years since one of your favorite black movies — as evidenced by our Black Movie Madness bracket — was released. Yes, Coming to America, featuring four versions of Eddie Murphy and several Arsenio Halls, hits the quarter-century mark on June 29. Take a look at what some of the cast has been up to since 1988.
Eddie Murphy, Then  
"Oha, it is my 21st birthday. Do you think perhaps just once I might use the bathroom by myself?"
Murphy, already a blockbuster movie star, played Prince Akeem, the spoiled prince of Zamunda who had never once tied his own shoes. His father thought he was on a quest to "sow his royal oats," but Akeem was seeking true love in no other place but Queens, N.Y. Of course, Murphy also played Clarence, the barbershop owner; Randy Watson, the leader of the band Sexual Chocolate; and Saul, the barbershop patron with the soup joke.
G/O Media may get a commission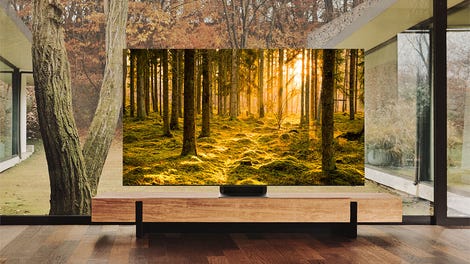 Up to 40% off
Samsung Smart TVs
Eddie Murphy, Now  
It's almost ridiculous to do a "Where is he now?" for Murphy, since he has continued to star in films nearly every year since 1998. For a while he was the go-to guy for kid films including Doctor Dolittle, Daddy Day Care, The Adventures of Pluto Nash and the Shrek franchise. According to imdb.com, he will appear in a TV-movie version of Beverly Hills Cop this year.
Arsenio Hall, Then  
"Freeze, you diseased rhinoceros pizzle!"
Semmi was Akeem's sidekick who quickly got sick of working at McDowell's and living in a slum apartment. Comedian Hall also played one of the "lovely" bachelorettes at the bar; Morris, a patron at the barbershop; and Rev. Brown, the host of the Miss Black Awareness Pageant.
Arsenio Hall, Now  
After Coming to America, Hall hosted his own TV show for five years; it was canceled in 1994. He also starred in his own sitcom, Arsenio, for one season. In a 21st-century comeback, Hall will return to late-night talk on Sept. 9. Watch the promo for his new show.
James Earl Jones, Then
The venerable Jones played King Jaffe Joffer of Zamunda, who had prepared an arranged marriage for his son, Akeem. However, on the prince's wedding day he obliged his son, who wanted to explore his love options. After insulting the love of Akeem's life, he flexed his muscle as king and allowed his son to break tradition to marry the woman of his dreams.
James Earl Jones, Now
With more than 50 years' worth of work in Hollywood, Jones has appeared in several films and TV movies and has even voiced video games. This year, according to imdb.com, he has completed two films: Gimme Shelter and The Angriest Man in Brooklyn.
John Amos, Then
"Oh, Lisa, you did it this time. You hit the jackpot. Your little goat herder makes Darryl look like a welfare case."
Amos' Cleo McDowell was the king of "remixing" trademark meals from McDonald's. The Big Mick featured two all-beef patties, special sauce, lettuce, cheese, pickles, onions. But the twist? No sesame seeds! Cleo was also a big critic of his daughter's relationship with Akeem. Until, of course, he finds out that Akeem is a prince.
John Amos, Now
Amos has continued a career in Hollywood that has lasted more than 40 years. He has appeared in sitcoms including The Fresh Prince of Bel-Air, All About the Andersons, The West Wing and Men in Trees. Most recently he appeared in Tyler Perry's Madea's Witness Protection. 
Shari Headley, Then  
Headley played Lisa McDowell, who was Akeem's love interest. She was smart, nice and beautiful and didn't mind that he was a goat herder in Zamunda, or that he went to a college that sounded as if he'd made it up on the fly. (The University of the United States?) Although he lied and told her he was a goat herder, she forgave him, ditched the prince of Soul Glo and became a princess herself.
Shari Headley, Now  
Headley has had a couple of recurring roles on daytime TV. She played Officer Mimi Reed Frye on All My Children and Heather Engle on The Bold and the Beautiful. In 2012 she appeared on an episode of WeTV's L.A. Hair, in which she cut off her lustrous locks. She has two films slated to be released this year: Ex-Free and Act Like You Love Me.
Frankie Faison, Then  
"Damn shame what they did to that dog."
Frankie Faison played the crooked landlord of Akeem and Semmi's rundown apartment in Queens. He even landed a decked-out apartment after Semmi went on a shopping spree to spruce up their dump.
Frankie Faison, Now  
Since Coming to America, Faison is probably best known for his role on the hit HBO series The Wire as Commissioner Ervin H. Burrell of the Baltimore Police Department. In the late 2000s he also had a recurring role on One Life to Live. He currently plays Sugar Bates on Cinemax's Banshee.
Eriq La Salle, Then  
La Salle's Darryl was Lisa's politically incorrect jerk of a boyfriend, and the heir to the Soul Glo kingdom. His hair was always glistening, even as he hid under a table as McDowell's was held up by a robber, played by Samuel L. Jackson.
Eriq La Salle, Now  
La Salle is best-known for his role as Dr. Peter Benton on ER in the 1990s and 2000s. Recently he has spent a bit of time behind the camera as director of episodes of CSI: NY and Law & Order: Special Victims Unit, among others.
Allison Dean, Then  
Dean's Patrice was Lisa's round-the-way sister. She just knew that Lisa was sneaking around on Darryl after a pair of diamond earrings arrived on their doorstep. Most likely, Patrice broke girl code (and sister code) when Darryl showed up at her door, soaking wet and brokenhearted after Lisa dumped him.
Allison Dean, Now  
Dean made her acting debut in Coming to America. Since then she's had a few small roles on TV and film, including Girlfriends, Chicago Hope and Speed 2: Cruise Control. Her LinkedIn profile says she's worked as a production assistant at Fox Television, Nickelodeon, Discovery Channel and other networks over the last few years.
Vanessa Bell Calloway, Then  
Calloway was supposed to be his "queen to be," but Imani Izzi was just a bit too submissive for Prince Akeem. She barked like a dog — a big dog — while hopping on one foot, all to prove her love for the young prince.
Vanessa Bell Calloway, Now
Calloway has had a steady career in Hollywood since the 1980s. She appeared in What's Love Got to Do With It, The Inkwell and, most recently, The Last Fall, opposite Lance Gross. She also has a recurring role on Showtime's Shameless. In a story at the Daily Beast, she recently talked about her battle with breast cancer.
Paul Bates, Then  
" … She's your queen-to-be. A vision of perfection. An object of affection to quench your royal fire. Completely free from infection. To be used at your discretion. Waiting only for your direction. Your queen-to-be."
Oha was the Joffer family's confidant and wedding singer. Bates will forever be remembered for singing those downright ridiculous lyrics.
Paul Bates, Now  
Bates has had several one-off appearances in TV series over the years, including Common Law, FlashForward and NYPD Blue. On the big screen, he had roles on Bad Teacher, 8 Mile and The Preacher's Wife, among others.
Madge Sinclair, Then  
"Put a sock in it, Joffe, the boy's in love!"
Queen Aoleon, played by Sinclair, was Akeem's supportive mother, who hoped that he would find true love in America. The queen pressed her husband at the end of the film to change tradition so that their son could be happy.
Madge Sinclair, Now  
After Coming to America, Sinclair appeared in a few short-lived TV series, including Pros and Cons, Gabriel's Fire and Me and the Boys. She, of course, was the voice of the lion queen, Sarabi, in Disney's The Lion King in 1994, opposite former cast mate James Earl Jones. Sinclair died in 1995 after battling leukemia for 13 years. She was 57.
Louie Anderson, Then  
In a small role, the comedian played Maurice, who showed Akeem and Semmi the ropes at McDowell's. We hope that by now he at least owns a couple of McDowell's franchises.
Louie Anderson, Now  
Anderson has been on several TV series since he was washing lettuce at McDowell's. He starred in The Louie Show and Life With Louie and was the host of Family Feud for several years. Most recently he appeared on ABC's diving-competition show, Splash.