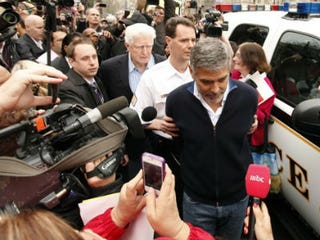 George Clooney made a trip to D.C. for the state dinner and stayed for a protest and an arrest. Or who knows — maybe the planned demonstration was the real motivation for his trip. He and several of his activist colleagues were arrested and taken away in handcuffs outside the Sudan Embassy on Massachusetts Avenue this morning, the Washington Post reports.
They were there to draw attention to the humanitarian crisis faced by hundreds of thousands of Sudanese who have been prevented from receiving international aid by President Omar al-Bashir.
Clooney and the group of protesters reportedly stepped onto embassy grounds after giving short speeches, at which point they were instructed that they must leave or be arrested. On the third warning, officers told the group they were under arres. The protesters lined up to get handcuffed and were removed to a waiting van.
According to MSNBC, Clooney's father, journalist Nick Clooney, 78, was with him and was also arrested, as were Martin Luther King III, NAACP President Ben Jealous, Reps. Jim McGovern (D-Mass.) and Jim Moran (D-Va.) and former Rep. Tom Andrews (D-Mass.).
Speaking before the large crowd that gathered to watch the protest, Clooney said, "We need immediate humanitarian aid into Sudan before it becomes the worst humanitarian crisis in the world."
Read more at the Washington Post.
Like The Root on Facebook. Follow us on Twitter.