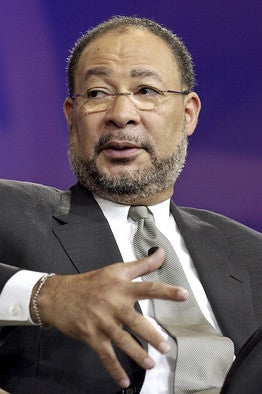 Citigroup Exec Goes Knucklehead Route, Has Child with Mistress
The New York Daily News reports that Richard Parsons, who has been in enough of a professional pickle trying to get the Citigroup's life together has apparently found enough time in his schedule for an extramarital dalliance with model/philanthropist MacDella Cooper that resulted in the birth of a human being. Being the principled people that they are, both have declined to comment on the situation.
America Says "We'll Trade You a Black Prez for a Straight American Idol Winner"
Blognigger outlines the lack of love America at-large has for homosexuals vis a vis the American Idol results in which the clearly more talented Adam Lambert was robbed of victory like Roy Jones in Seoul in '88. He goes on to discuss how much of the shameful vitriol directed at gays comes from a populous who should, at least, be understanding of their hated-on position: Black folks. Was Lambert robbed because he was gay and do Black folks have a deep-seeded hate for homosexuals that's troubling on multiple levels? The Buzz thinks so.
Reporter Charles Hamilton Catches a Lady Jab; Lady Unlikely to Catch Charges
Charles Hamilton of Dime Wars gets caught talking slick to a female MC and Youtube has video of her jab sticking him in the mush. In light of Chris Brown's (alleged) Rihanna face-punching, is this footage not also worthy of assault charges? They won't get brought up, but it seems a reasonable question.