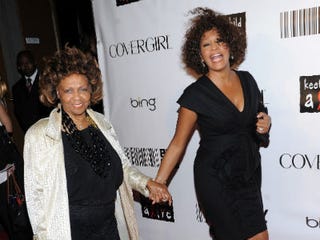 According to the Associated Press, Cissy Houston has spoken to the press about her daughter, the late Whitney Houston, for the first time. The grieving mother sat down with Newark, N.J.'s My9 News last Thursday at New Hope Baptist Church, where the singer's funeral was held last month. During the service, Tyler Perry, BeBe and CeCe Winans and Kevin Costner were among the many who spoke about the fallen star, while Dionne Warwick, her cousin, served as the master of ceremonies.

The Associated Press reports:

Cissy Houston says her daughter "accomplished a whole lot in the short time that she had here" and "was a very wonderful person." She says she doesn't blame herself for what happened to her because she knows she did the best she could.

Whitney Houston's death has been ruled an accidental drowning, with heart disease and cocaine use listed as contributing factors.

Cissy Houston did not participate in Oprah Winfrey's March interview with Gary and Pat Houston and Bobbi Kristina Brown. Her appearance on My9 News, which will air on April 2, will be her first television interview since her loss.

Read more at the Associated Press.