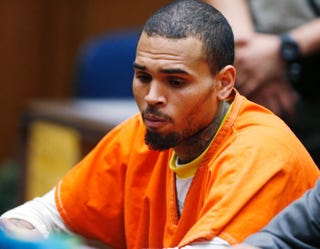 Embattled hip-hop and R&B crooner Chris Brown is set to go on trial Monday on assault charges stemming from an altercation last year outside a hotel in Washington, D.C., according to Agence France-Presse.
The 24-year-old Grammy Award-winning singer was dressed conservatively in a suit and tie Friday during an appearance before District of Columbia Superior Court Judge Patricia Wynn, who instructed him to return Monday for the start of his trial, the news service writes. He could face up to six months in jail and a $1,000 fine if convicted, the report says.
The news site reports that Wynn moved the trial date back, saying she needed the holiday weekend to reach a verdict in a related case involving Brown's bodyguard Chris Hollosy, 35, outside the downtown W Hotel on Oct. 27.
"I have to be confident about my verdict," the judge said, according to AFP. "I need to take my time."
Prosecutors accuse Brown and Hollosy of punching Parker Adams, 20, from a Washington suburb, after he tried to get into a picture with the star. Adams has also filed a $3 million civil suit against the two defendants.
The charges came at an inauspicious time for Brown, who was already sentenced to five years' probation, community service and domestic-violence counseling after pleading guilty to assaulting then-girlfriend Rihanna in February 2009.
On Friday, supporters packed the courtroom. They included Brown's mother, Joyce Hawkins, friend and model Karrueche Tran and rapper Bow Wow, who the day before participated in a discussion with first lady Michelle Obama at Howard University, the report says.
Read more at the Raw Story.