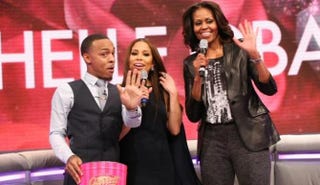 First lady Michelle Obama and cable television host and rapper Bow Wow joined 37 students from Chicago public high schools for a tour of Howard University, the Washington Post reports.
The annual college visit is called Escape to the Mecca, a bow (pun intended) to the university's nickname "the Mecca."
During the visit, Obama encouraged students to look around, saying, "You might be living here. I'm just visiting," the Post reports.
As Obama strode through Howard's famous quad, posing for photos with the Chicago group, female Howard students inside the dorms shouted greetings through open windows. "Michelllllle! First lady! We love you," fans yelled, according to the Post.
During a discussion with students, Bow Wow recalled the first time he voted, casting a ballot for Barack Obama. "I remember him saying how much they needed us, the youth. It's us that's going to shape this world and turn it around," Bow Wow said, the Post reports. "Maybe the next president is right here in this room."
The first lady met Bow Wow during a 2013 appearance on BET's 106th & Park, the hip-hop talk show he co-hosts, the Post reports. She invited him to the event because of his commitment to education and encouraged the students to pursue higher education, according to the news site. 
"No longer is high school the bar," Obama said. "That is not enough in today's globalizing economy."
Read more at the Washington Post.