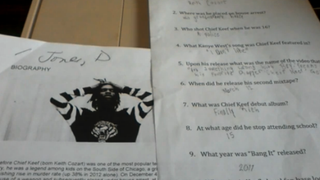 Parents of Chicago's Fiske Elementary School students weren't impressed after a substitute teacher gave sixth-graders a lesson and assignment based on controversial local rapper Chief Keef, calling the material inappropriate, WLS reports. 
According to the news station, a Chicago Public Schools spokeswoman said that Tuesday was the teacher's last day. 
"If you were a sub, you were supposed to take on whatever assignment the regular teacher was given, not what you wanted to give them," one parent, Shawnta Powell, told the news station. 
"With this assignment you're basically teaching children, 'OK, well, you can go out there and get you some guns,' " another parent, Katrina Sanders, added. "We already know children are exposed to a lot of things, but with this type of work and a young man that has a rap history, that's a bit much for a sixth-grader." 
Chief Keef, who was born Keith Cozart, is a notorious Chicago rapper known for lyrics peppered with talk of drugs and violence. According to WLS, the school assignment included questions about where and why Keef was on house arrest, who shot Keef and when the rapper dropped out of school. 
"This inappropriate project was immediately suspended by the principal as soon as she learned about it," a Chicago Public Schools spokeswoman told the station. "While teachers have flexibility in making assignments, CPS requires them to provide age-appropriate material in the classroom." 
Read more at WLS.