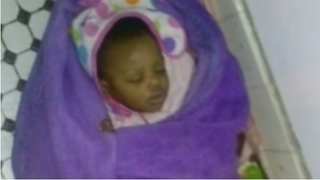 Chicago police are searching for the mother of a baby found abandoned in the lobby of a South Side apartment building, NBC Chicago reports.
Thomas Freeman told police he found the child wrapped in a purple blanket about 11:30 p.m. Friday at the building in the 8200 block of South Justine Street. The child was in good condition and taken to Little Company of Mary Hospital, police said.
Freeman said he made the discovery after a young woman, whom he now believes to be the baby's mother, approached him and asked to use his cellphone. She then told him it appeared that someone had left a baby in the hallway of a nearby apartment building.
Freeman said he immediately set out to determine if the woman was telling the truth. 
"When I looked in there that's when I realized there was something laying in there. It was a little baby, a precious baby girl," he told the news station.
He said he and his girlfriend, Arleasia Lee, then called police and went inside to check on the young girl, who was left with a bag of diapers and a sippy cup and was lying next to a gas can.
"I was like, please don't let it be hurt or anything," Lee told NBC.
Read more at NBC Chicago.