By most accounts, Sam Hurd was just a nice guy. Teammates said he was well-liked and low-key and often sang gospel songs to himself. One former teammate said Hurd struck him as "a family guy."
All of that could be well and true.
But federal agents said there's more to Hurd, a side that could send him to jail for up to 40 years. He was arrested this week on charges of conspiring to possess and distribute cocaine. The Chicago Bears, who in July signed Hurd to a three-year, $5.1 million contract, released him on Friday.
The Bears' contract included a $1.35 million signing bonus, but that apparently wasn't enough to provide the lifestyle Hurd sought. He wasn't satisfied with just being an NFL player; he wanted to be a playa-playa, along the lines of Tony Montana.
There's no other explanation for Hurd allegedly expressing an interest — while meeting with an informant and an undercover agent — in purchasing 5-10 kilograms of cocaine and 1,000 pounds of marijuana … wait for it … per week!
Feds say Hurd boasted that he already distributes 4 kilos of coke per week in the Chicago area, focusing on "higher-end" deals while his partner handled the small fry. The amount of drugs he sought on a weekly basis, worth hundreds of thousands of dollars, would make him kingpin of a large network.
Alarm grew within the NFL when a Chicago radio station reported that fellow players might be part of the operation. An attorney for Hurd shot that down, on instruction of his client. "Sam has asked me to address one point, and I am going to address that with you," Brett Greenfield told reporters after a court hearing. "With respect to the rumors that Sam has been supplying drugs to other members of the NFL — out of respect to the NFL, out of respect to his teammates and out of respect to other players — he 100 percent denies that allegation. It is patently and totally false."
G/O Media may get a commission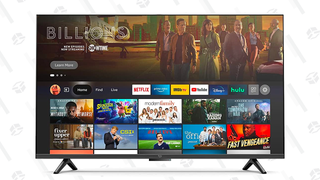 22% off
Amazon Fire TV - 50" Omni Series 4K - Early Access Deal
Sadly, that sounds like the only part of this case that might be false.
It looks as if Hurd followed in the footsteps of otherwise law-abiding citizens — in and out of sports — who couldn't resist the lure of huge profits and "easy money" from drug dealing.
Automaker John DeLorean was arrested in 1982 in a Los Angeles airport motel with a briefcase containing $24 million worth of cocaine. Former Detroit Tigers star pitcher Denny McClain in 1985 was sentenced to 23 years in prison on racketeering, extortion and drug-dealing charges. Former Baltimore Ravens running back Jamal Lewis spent four months in prison in 2005 for using a cellphone to try to set up a cocaine deal in 2000.
Hurd's case might prove that stereotypes of drug dealers aren't always accurate.
Ordinary "nice" guys can sling dope, too.