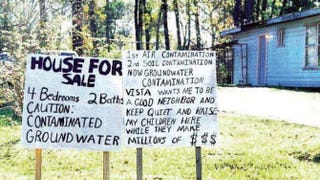 A project led by South African chemical giant SASOL threatens to erase the small community of Mossville, La., which was founded in 1790 by Jim Moss, a freed slave, Mother Jones reports.
Over the past half-century, the small, predominantly African American unincorporated enclave on the outskirts of Lake Charles in Calcasieu Parish, La., has been encroached upon by more than a dozen industrial plants, the report says.
But the latest initiative (pdf) threatens to wipe out the community. The chemical plant, expected to cost as much as $21 billion, could mean more than $2 billion in incentives (including $115 million in direct funding) from the state's floundering budget, Mother Jones reports. It could, however, potentially infuse $46.2 billion into the state's economy, according to a study by Louisiana State University.
The project, one of the largest industrial projects in the state's history, has the support of Republican Gov. Bobby Jindal, who is widely considered to be a 2016 presidential candidate. And after a community meeting Tuesday, the proposal is one step closer to fruition, the report says.
But the massive plant could have a huge environmental toll, producing more greenhouse gases than any other facility in the state. The project also would likely result in the demise of the 224-year-old settlement of Mossville, a poor community of 500 residents that for years has been forced to accommodate industrial facilities that no one else wanted in their back yard, the report says.
Read more at Mother Jones.