Thursday, March 19th
I woke up to do headshots with my bestie, Lauren (of Lauren Michelle Photography), which I had never done before. Right after that, she dropped me off at the Austin Convention Center for more SXSW festivities. At this point, all of the film panels were done (though, I believe there were some film/music fusion panels that were still going on), so I was geared up to fill up my remaining days with screenings. I started off the day with Mavis!, which wasn't just a documentary, but an experience. I couldn't stop moving in my seat and just getting to know more about Mavis Staples and how much of a powerhouse she is today (she is a smooth 75 years old and still does about 100 shows a year) was pretty cool. Mavis! was part of a new series SXSW was doing to combine film/music called "24 Beats Per Second," in which the films in that series focused on a music aspect, allowing people with Music badges to also see those specific film screenings. It was a really good time. After that, I went right on to Steve Jobs: Man in the Machine. This was a realllly great doc. I had always heard he was kind of an asshole (and by kind of, I mean really), but the mob-boss mentality he had was really intriguing. Also, getting to know how socially disconnected he was, while creating technology that he wanted as personable as possible was an interesting dichotomy. Plus, looking at younger pictures of him really makes me realize just how perfect Ashton Kutcher was as a casting choice in his biopic, at least physically. Twinsies, for real.
Afterwards, I walked around a bit and came across a couple of guys selling CDs who proceeded to "sista" and "your hair is a crown, queen" me for about 15 minutes until I took their damn CD. Geez. I have to let ya'll know how it is whenever I listen to it. I walked over to 6th Street to head over to my new BFF, Alamo Ritz for a "Super Secret Screening." Now, there was a lonnnnnnng line for this since there were rumors that celebrities would be there and/or it would be this exclusive screening that wasn't to debut until next year. All kinds of stuff. I think one of the rumors was an exclusive screening of "The Walking Dead." My curiosity — as usual — got the best of me so I waited. What the fuck did I wait for? A re-lease of THEE most hilariously horrible movie I had ever seen: Roar. Anyone knows watching bad movies should be a social experience so we actually all had a blast. I was in tears from laughing so hard. But, a lot of people did leave pissed because they had been waiting in line for about 5 hours. Welp. What a damn night.
Friday, March 20th
This day was pretty chill, especially since it was expected to rain most of the day. I had been told that it rains at least once during SXSW, so I guess this was the day. I went to visit the infamous miss t-lee, after yearsssssss of e-friendship. I had been waiting since the old school days of VSB to meet her in person and I finally got to. She signed up for priority tickets to a taping of Jimmy Kimmel Live and we decided to go there together. First off, let me tell you, miss t-lee is every bit of cool as I thought she would be. She kept me laughing and she's just super dope and fun to hang and chill with. Also, from the moment I met her, she greeted me with what she calls, "Adult Capri Suns." She was instantly myyyyy nigga. Unfortunately, we had a bit of a kerfuffle waiting in line for Jimmy Kimmel. It was raining. It was freezing. And apparently, whoever was in charge didn't know what the fuck they were doing. Even though we had priority tickets, we weren't exactly treated like priority, but whatever, we were there… we got in. And I was in good company. The actual show was a blast: Hype man Don Barris had the crowd pumped, Jimmy Kimmel did a farewell to Austin tribute song with Willie Nelson (who had a great story about the time he smoked pot on the White House), Colin Hanks was the guest (who is equally as likeable as his father), and a great performance by Edward Sharpe and the Magnetic Zeros (Edward actually came into the audience and performed a song), and Guillermo in his Elvis-inspired getup gave me life (he entered the stage on a wire like a real rockstar!). Fun Fact: Kanye was supposed to be the guest, but he apparently canceled because of the "Mean Tweets" segment. I just read this via Google, just now. I assumed someone had said something about Beyoncé, and NOT his own wife, but I'm sleep. After that, miss t-lee treated me to a real Tex-Mex experience and Mexican martinis, all of which was a good time.
Saturday, March 21st
Another Austin staple I got to experience: breakfast tacos! Or as I'd rather call them: breffis tacos! Because phonetic spelling. Again, miss t-lee is the bomb dot com, dot org, dot edu. Ask about her. I also chilled this day since Austin was expecting a flash flood, so I waited it out until it seemingly calmed down and went to my last experience of the Alamo to see Landfill Harmonic, which was a super inspirational story about a young orchestra who uses instruments made entirely of trash. They're kind of a big deal. Such a big deal that they've performed alongside bands such as Metallica. And some of the members performed for us after the screening! After that, I went to a screening of A Brave Heart: The Lizzie Velasquez Story, which had me in allllll the tears. The brutal bullying she's had to face and still rise above it all stronger than ever could inspire even the most hopeless viewer.
G/O Media may get a commission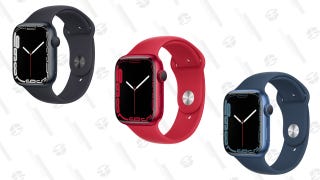 Up To $45 Off
Apple Watch Series 7
Sunday, March 22nd
SXSW was over by this point, but I just wanted to mention how I got to experience Blue Bell and barbecue from the barbecue capital of the nation, Lockhart, Texas. Heaven!
Takeaways from my SXSW Experience:
1. Austin really ain't ready for the SXSW crowd when it comes to public transportation. It has a two-car rail system that shares a track. Comin' from Chicago , I'm like, JIGGA WHAT?!
2.Standing in line is the best way to meet people. I mean, you're standing in line… what else is there to do than to talk to strangers. And it gives you the most natural opening line ever.
3. The world of SXSW is super big, but super small at the same time. Amongst a crowd of thousands (or a hunnid thousand trillion), I legit saw the same five people over and over.
4. Free stuff is EVERYwhere. Especially if you follow the various social media accounts. If you really do it right, you never (or rarely) have to pay for food.
I'd do it again in a heartbeat. But, I'd probably plan wayyyy in advance so I could book (and afford) a hotel, so that I could stay out way later and my schedule isn't limited to the train schedule.
I have always dreamed of doing this festival and I'm so glad I did. I had the time of my life and I have a bounty of stories to tell, which, the writer in me highly appreciates. I have been waiting a while to feel as creatively inspired as I do now and I can't wait to follow-through on the many projects that have arisen from this festival.
I'm already low-key planning to go next year with a specific project plan in mind, so I have one question: who wants to be my roomie?