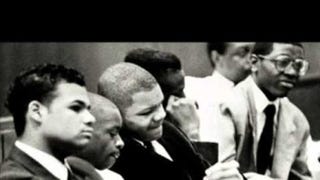 A group of five men who were imprisoned as teenagers for a brutal rape they did not commit are looking to have a conversation with a second victim of the real perpetrator in hopes of settling their lawsuit against the city of New York, the Huffington Post reports.
The Central Park Five, as they are commonly called, filed a $250 million lawsuit against the city in 2003 for malicious prosecution, emotional distress and other claims in the wake of their imprisonment—up to 13 years—for the rape of Trisha Meili. To date the suit remains unsettled, but the men, teenagers when they were convicted, have hope as they prepare for a new hearing just as the city has finished electing its new mayor, Bill de Blasio.
In order to boost their argument, they are looking to speak to another, unidentified victim of the real attacker, Matias Reyes, to help determine why authorities did not charge him earlier.
According to the Huffington Post, Reyes, whose confession and DNA led to the group's exoneration, had attacked an unnamed victim two days before the brutal incident on April 17, 1989, but that case received less publicity. According to one of the group's lawyers, Jonathan Moore, it was this victim's description that eventually led police to Reyes.
"We would like to talk to her," Moore said after a hearing on Tuesday. "Some of the same investigators who worked that case worked this case."
Mayor-elect de Blasio has also offered the Central Park Five a ray of hope in this tedious process, according to filmmaker Ken Burns, who produced a documentary exploring the men's story.
"Bill de Blasio, the mayor-elect, has agreed to settle this case, and though this is justice delayed way too long, and that is justice denied, [they] will not only be exonerated … they will have justice, they will see some closure, they will be able to be made whole," Burns said.
Read more at the Huffington Post.