The Pursuit of Happyness (2006) - Temporary Strife, Permanent Success
Based on the true story of Chris Gardner and starring real-life father-son duo Will and Jaden Smith, The Pursuit of Happyness follows Gardner (Will Smith) and Christopher Jr. (Jaden Smith) as they sleep in a church's homeless shelter and even in a San Francisco train station bathroom while Chris struggles through an unpaid internship at a stock brokerage firm. In 2010, the real Chris Gardner authored another book, Start Where You Are, and has been touring the country giving financial seminars.
Boyz In The Hood (1991) - On Being a Man
Furious Styles (Laurence Fishburne) didn't flinch at keeping it real with his son Tre (Cuba Gooding Jr.). Among his words of wisdom for Tre: "Any fool with a d*** can make a baby, but only a real man can raise his children." Seems like President Obama took a page straight out of Furious' lines in John Singleton's directorial debut when he gave his Father's Day speech in 2009. (Of course, in his own presidential lingo.)
He Got Game (1998) - Forgiving an Absent Father
G/O Media may get a commission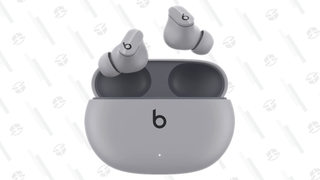 In this Spike Lee Joint, young Jesus Shuttlesworth (Ray Allen) is one of the most sought after high school ballers during the college draft. So much so that New York's governor offers his father, Jake (Denzel Washington), a few days out of prison and a shorter sentence to convince his son to choose the governor's alma mater. Jake, who went to jail for killing his wife, has a hard time convincing his son that he has Jesus' best interests at heart.
First Sunday (2008) - Keeping a Promise
As his ex-girlfriend faces eviction from her apartment and threatens to move to Atlanta, Durell (Ice Cube) decides he must get the money she needs to stay. By any means necessary. So he and his friend LeeJohn (Tracy Morgan) take it to the Lord for the money—by robbing a church. He promises his son Durrell Jr. (C.J. Masters) that he'll do whatever he can. And by the grace of God…
Coming to America (1988) - His Father's Rules
King Jaffe Joffer (James Earl Jones) allows his son, Prince Akeem (Eddie Murphy), to "sow his royal oats" in America before committing to his Zamundan wife. However, Akeem seeks to find his queen in Queens, N.Y., and steer clear of the arranged marriage. Prince Akeem wants "to be loved, to be loved" in the traditional sense, as opposed to being obligated to love a woman he barely knows. In this story, father doesn't know best, as love wins out over duty.
Waist Deep (2006) - Rescuing His Child from Danger
After O2's (Tyrese Gibson) car is hijacked with his son, Junior (H. Henry Hunter) in the back seat, he goes on a full-out L.A. rampage, robbing banks and breaking into a multimillion-dollar house. This modern-day Bonnie & Clyde (Meagan Good plays his partner-in-crime, Coco) wasn't the best film; however, O2 stopped at nothing to make sure his son was safe and back in his arms.
In His Father's Shoes (1997) - Seeing Life Through His Father's Eyes
On a shopping trip, Frank Crosby (Louis Gossett, Jr.) and his son, Clay (Robert Ri'chard) buy a pair of wing-tipped shoes. Shortly thereafter, Frank dies from cancer. When Clay puts on the wing-tipped shoes, he's transported back to the '60s as his father, as a child. Watch as he gives a report on John F. Kennedy's assassination—before it has happened— by channeling his adult father.
The Gospel (2005) - The Prodigal Son
After his mother dies, singer David Taylor (Boris Kodjoe) decides he'd rather make it big than stay in the church. So he leaves the congregation of his father, Bishop Fred Taylor, (Clifton Powell) to skyrocket up the Billboard charts. David returns to the church after his father falls ill, and he must figure out how to save the church—and save himself in the process.
John Q (2002) - Stopping at Nothing
John Quincy Archibald's son Mike (Daniel E. Smith) had no greater hope than to become to world's next wrestling star. But after collapsing in the middle of a baseball game, the boy must get a heart transplant the family cannot afford. Faced with financial struggles, insurance battles, and a mountain of frustration, John Q (Denzel Washington) locks down the hospital and holds patients hostage in order to force a surgeon to operate on his son.
The Lion King (1994) - Losing Dad
Who didn't cry when the lion Mufasa (voiced by James Earl Jones) fell to his death? Or maybe the tears started rolling when Simba (voiced by Jonathan Taylor Thomas) screams for help at his father's feet? (And how dare Scar blame that little cub?) Simba becomes a man with Timon and Pumbaa at his side, but it's his father's advice that forces him to return to the pride. "Remember who you are. You are my son, and the one true king. Remember…"
Roll Bounce (2005) - Coming of Age
Curtis Smith (Chi McBride) is raising his teenage son, Xavier "X" Smith (Bow Wow) and young daughter after his wife died. In this coming-of-age comedy set in the 1970s, X and his friends are vying for the top spot at a local roller rink. Watch as X confronts his father about dealing with his mother's death.
The Brothers (2001) - Strained Relations
Nothing says complicated relationship like when Jackson (Morris Chestnut) finds out his father Fred (Clifton Powell) had previously dated his girlfriend (Gabrielle Union). Enough said.
Once Upon a Time When We Were Colored (1995)
Cliff (played by Charles Earl Taylor Jr. at 6; William Norwood Jr—aka Ray J at 12; Damon Hines at 16) is actually raised by his great-grandparents. But as Roger Ebert points out in his 1995 review, one of the most poignant scenes is when Poppa (Al Freeman Jr.) takes Cliff into town and traces the letters "C" and "W" on the separate bathrooms for "coloreds" and whites to teach the young man about racism and segregation.
Sounder (2003) - Providing Guidance
Set in rural Louisiana in the 1930s, the Oscar-nominated film follows the Morgans, a black sharecropping family. In order to put food on the table, Nathan steals a ham and is sentenced to a year of hard labor. "Son, don't get too used to this place. I want you to beat the life they got all laid out for you. I love you, son," Nathan Lee Morgan (Paul Winfield) tells his son, David Lee Morgan (Kevin Hooks) after he is released from the labor camp.