She's been a front-row regular at New York Fashion Week, but most would describe Whoopi Goldberg's personal style as "quirky"—oh, and always comfortable.
"I never want to explain why I have something on," Goldberg tells Business of Fashion (BoF). "Who's to tell you it's wrong? Nobody. If I'm happy, leave me alone about what I've got on," she said. "Maybe I was ahead of my time. Maybe now is the time."
The time clearly feels right for the EGOT to take on a new role, throwing her considerable cachet behind a new fashion line, called Dubgee. (Get it? Dub + Gee = W.G.) As BoF reports, Dubgee will be "a size-inclusive contemporary line of comfortable, graphic separates, tunics and dresses" up to size 3X, and priced from approximately $90 to $400. The line will launch May 15 on Amazon, Ashley Stewart, Le Tote and Neiman Marcus.
While Goldberg, despite her rising profile as a fashion icon, may still seem an unlikely fashion icon to some, as a fortysomething with a fairly glamorous job title who nevertheless spends most days in leisurewear (read: sweats, tees and pajama pants), I'd be lying if I said I didn't see the appeal.
G/O Media may get a commission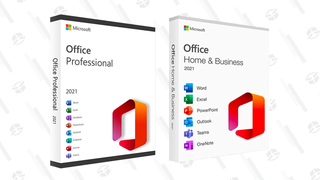 89% off
Microsoft Office Professional 2021 Lifetime License
"For me, the idea has always been to be comfortable," Goldberg told BoF.
And she's not the only one; the enduring prominence of streetwear, sneaker culture (Goldberg is an avowed sneakerhead) and "athleisure" has also cultivated a culture of comfort. No longer is it requisite to suffer for fashion, a fact Goldberg and partner Gary Wassner are no doubt banking on. As reported by BoF, Wassner is the founder of Hilldun, "a factoring firm that provides young designers with loans and other forms of credit, and Interluxe, an investment firm." He and Goldberg have previously partnered on a line of ridiculously campy Christmas sweaters initially launched in 2016.
"[Goldberg] really is a fashion icon," Wassner told BoF. "[S]he knows exactly who she is, there is no pretending, there is nothing phony about how she dresses," he said.
In addition to Wassner, Dubgee is being produced in partnership with manufacturing and investment company the Powell Companies Real LLC, formerly the Bahari Group (best known for producing the now-defunct House of Deréon line).
Powell Brand President Joseph Boitano said of Goldberg, "[S]he likes to really be involved," he said, noting that Dubgee is designed to cater to "a woman of a variety of shapes and sizes and incomes" who may feel underserved by the high fashion market.
"They look at the style of Whoopi and they see ease of dressing," Boitano later added. "It's very indicative of who Whoopi is—she is high low."
And as Goldberg herself says, the creation of Dubgee was as much a solution to a personal issue as a new professional pursuit.

"I started feeling kind of weird about my body, which is something I had never experienced before," she told BoF. "And it suddenly occurred to me that if that's how I'm feeling, maybe other people are feeling the same way."
"We are making clothes that compensate for all of the issues that have always bothered Whoopi when she's gone shopping," said Wassner.
For Dubgee's silhouettes, Goldberg says she drew inspiration from the 1920s and 1930s, when "you couldn't tell anybody's size and everybody looked good." Her granddaughter even got in on the act, creating original graphics. And though Dubgee is still days away from launch, Goldberg is already teasing upcoming lines for children, dogs and housewares—her first home entertaining book The Unqualified Hostess, is due out in September.
But don't call it a licensing deal. The View's moderator made it clear to BoF that she's creating with a major mission in mind.
"This is as serious to me as anything else I've done in my life," said Goldberg. "There are a million people who put their name on clothes, you know the 'Pooky Poo' collection. ... It's not a licensing deal to me. I want to wear what we are making. I want to say, 'Here's why I love it, here's why I think you'll love it.' I can convince people to take a shot at feeling better."