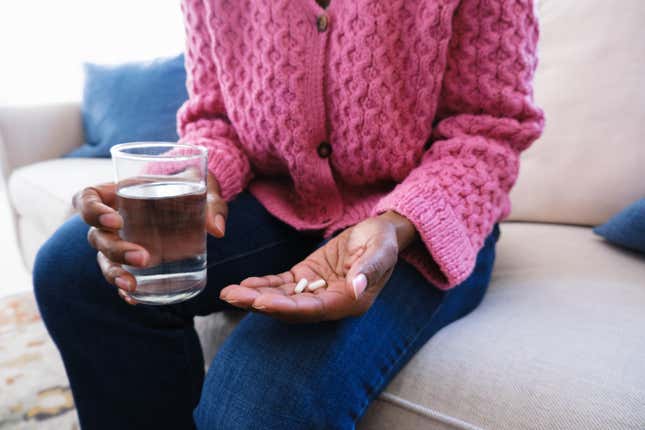 The Food and Drug Administration's latest change to how abortion medication can be dispensed is causing quite the buzz. On Tuesday, the FDA announced that they will allow certified pharmacies and licensed health care providers to prescribe and dispense mifepristone, a medication used in abortion care.
Your Tax Dollars Are Funding Anti-Abortion "Crisis Pregnancy Centers"
In theory, pharmacies could start selling abortion pills as soon as they get their certification.
But what does the change actually mean for folks across the United States looking to access abortion care? Here are the six things you need to know about the decision:
1. What is Mifepristone?
First things first, what exactly is Mifepristone? Well, Mifepristone is one of two medications typically used to induce an abortion. The second drug, Misoprostol, was already approved for pick-up in pharmacies, so, no change there!
The FDA recommends taking Mifepristone first, followed by Misoprostol roughly 24 to 48 hours after. The combination is most effective when used earlier in pregnancy.
The two drugs are both considered incredibly safe. The majority of abortions in the United States are medication abortions, and they carry less than a .5% complication rate.
2. Does this mean stores will start dispensing abortion pills tomorrow?
The short answer is no. It could be a long time before pharmacies are certified to dispense Mifepristone and even longer before they can accept insurance payments for it, says Kirsten Moore, Director of Expanding Medication Abortion Access (EMAA) Project.
"We are in the process of moving what has been a very niche product in a closed loop system into the mainstream," says Moore. "And that transition is going to be a little messy and a little complicated, and it will take some time."
3. Which pharmacies will carry Mifepristone?
Once the "messy" process shakes out, you might be wondering where you can actually get Mifepristone. We decided to call around (ok: email, I'm lazy), and here's what the big pharmacies said.
CVS and Walgreens said that they are both pursuing getting certified to provide Mifepristone. "We plan to seek certification to dispense mifepristone where legally permissible," CVS wrote in a statement to The Root.
Walgreens said they will "dispense these consistent with federal and state laws."
We also heard back from the folks at Rite Aid, who were a little vaguer. "We are reviewing FDA action and remain committed to complying with federal and state law," wrote a spokesperson for Rite Aid in a statement.
5. Will I need a prescription?
Yes! I'll let Kirsten Moore with EMAA explain the rest.
"I think that's a really important point to underscore, not just in terms of setting realistic expectations on people who might need the medication. But also, you know, the [anti-abortion advocates] are going to play up this, like, pills are popping everywhere kind of thing," says Moore. "It's like, nope, you still have to go to a healthcare provider, have a consultation and get a prescription."
6. Is this a big deal for abortion access?
This one is a tad trickier. In the immediate sense, folks in states where abortion is banned won't see much of a difference since they likely won't be able to get their prescriptions filled at their local pharmacies. But the decision does help set a powerful regulatory precedent about the safety of medication abortions, says Moore.
"I am optimistic that that is going to allow us to challenge the bullshit that some states are doing in terms of putting up these barriers to access," says Moore. "It's going to be a long time before we start to see those changes in the real world. But I feel very optimistic about where we can get to."