In the decades since 1978, when Hampton University held its first conference dedicated to unpacking the issues facing black families, plenty of aspects of American life have changed for people of all races. At the 36th annual event, held this week on the campus of the Virginia HBCU, participants took a critical look at the media's ability to stay up to speed when it comes to portrayals of contemporary African Americans.
"Essentially Black: Media and the Modern Family," hosted by the school's Scripps Howard School of Journalism and Communications and chaired by its dean, Brett Pulley, featured input over three days of discussions from speakers including Black Entertainment Television co-founder Sheila Johnson, CBS News' Michelle Miller, ESPN's Chris Broussard and ABC News Chief National Correspondent Byron Pitts. It also included a focus on what Pulley called "the evolving media portrayal and images of black families."
A Thursday panel discussion attended by approximately 150 students and guests set out to explore the on-screen reflections of "spirituality, sexuality and multiethnicity" in African-American culture. As Pulley put it in explaining the importance of the topic, "Families are changing, and some things that may have been taboo in black families should now be front and center."
According to the latest research, 3.7 percent of all African Americans identify as lesbian, gay, bisexual or transgender, with 84,000 African Americans living in same-sex couplings  and roughly a third of those couples raising children. The biggest increase in interracial marriage since 2008 occurred among blacks. And despite Christianity's historic role in black culture, 16 percent of African Americans report that they have no religious affiliation.
Moderator Carletta Perry, an assistant professor of psychology at Hampton, said that portrayals of all of those experiences are important, noting that there's a negative psychological impact "if you don't see reflections of your experience or your family's experience in news and entertainment coverage." Even among what many deem "traditional" lifestyles, she added, "There's much more going on with black people than the struggle."
G/O Media may get a commission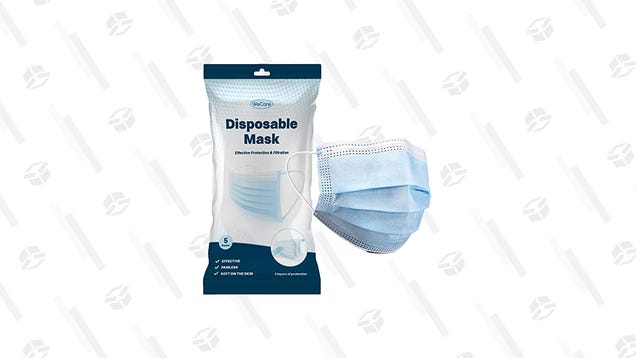 WeCare Disposable Masks With Elastic Earloops- 5 Pack
Kiera Weldon, a 22-year-old senior, wanted to see realistic portrayals of the black experience overall, even if they risked being controversial. "It's great to share what could be, but we have to show what is, too," she said after the panel.
A related forum titled "50 Shades of Black" invited the audience to join media professionals in "exploring evolving portrayals and images of modern black families across the burgeoning universe of digital and traditional media."
Overall, said panelist Broussard, an ESPN sports analyst and ESPN.com columnist, the media often "misses the nuance of black life," noting, "We're not monolithic. We've got many different types of families and different types of people."
For example, he said, "Black men get a bad rap, but I've always been around black men who are happily married and taking care of their children. You don't see a lot of those types of black men on television or in the media."
Attendees linked those negative images on-screen and in print to real-life—and potentially deadly—consequences, blaming stereotypes about black men in particular for the deaths of African-American teenagers Trayvon Martin and Jordan Davis, who many believed were killed because their race and gender alone caused white men to deem them threatening.
"The Trayvons and Jordan Davises remind us that a lot of stuff out in the media seems like it's attacking the black family. You can really get lost in that and think that's all that what's going on, until you have something like this that gives you hope," said 24-year-old Hampton graduate student Olivia Lewis, a conference organizer.
Many participants saw diversity behind the scenes in media as a potential solution to stereotypical, negative or limited representations of black families. "For example, if you have someone who has never been around single mothers or never been around children raised by single mothers, they may have a perception of those types of families that are negative—out of ignorance, not knowing," Broussard said.
"Whether we're talking about Saturday Night Live or the staff at Google, all of these places need diverse voices," said Pulley. "Producers of programs such as SNL, publishers and news directors who ignore the reality that the world is, and that broad and diverse group of people make up their audience … compromise their consumer base."
A historically black college like Hampton, he added, was the right place to highlight what was at stake. "I absolutely feel strongly that we as a school of journalism at an HBCU should take a lead on these types of things—issues related to the African-American family," he said. "We have to take this stuff on. If we don't do it, who will?"
Jenée Desmond-Harris is The Root's senior staff writer. Follow her on Twitter.
Like The Root on Facebook. Follow us on Twitter.