Rep. Sheila Jackson Lee became the subject of one United Airlines passenger's ire after the customer alleged that the Texas Democrat had been assigned a first-class seat that was originally hers.

Jean-Marie Simon, a 63-year-old attorney and private school teacher, according to the Houston Chronicle, said that she booked a first-class seat Dec. 3 for the last leg of her travel from Guatemala to Washington, D.C.
However, she said that when she arrived at the gate at George Bush Intercontinental Airport in Houston on Dec. 18, she was told by a flight attendant that her ticket wasn't in the system—and that her first-class window seat (1A) had been given away.
United Airlines says its records show that Simon had canceled the trip on the United Airlines app—a claim the passenger denies. But Simon did make it onto the flight—reseated in the economy-plus section and given a $500 voucher to boot.
Still, Simon wasn't ready to let it go.
According to the Chronicle, Simon said "she saw Jackson Lee board the plane with a flight attendant before all of the other passengers, but did not know who she was until another passenger told her after they were seated."
G/O Media may get a commission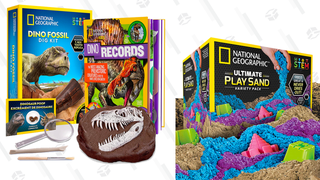 Up to 33% off
National Geographic Science and Activity Kits
Simon then assumed that some sort of privilege was at play, and during a pretakeoff delay, she made it to the front of the plane and snapped a photo of the Houston representative, who was now seated in "her" seat.
"Simon said she went to the front and snapped a photo of Jackson Lee and told a flight attendant that she knew why she'd been bumped," the Chronicle reports.
Jackson Lee has responded to the allegations that she got preferential treatment, and says that something very different was at play from what Simon is owning up to.
First, Jackson Lee says she overheard Simon's conversation with the flight attendant—who is black—and saw the passenger snap her photo.
"Since this was not any fault of mine, the way the individual continued to act appeared to be, upon reflection, because I was an African-American woman, seemingly an easy target along with the African-American flight attendant who was very, very nice," Jackson Lee said in a statement.
"This saddens me, especially at this time of year given all of the things we have to work on to help people," she continued. "But in the spirit of this season and out of the sincerity of my heart, if it is perceived that I had anything to do with this, I am kind enough to simply say 'Sorry.'"

Jackson Lee emphasized that she "asked for nothing exceptional or out of the ordinary and received nothing exceptional or out of the ordinary" on her flight from Houston to Washington, D.C., which United confirmed.
Simon, meanwhile, claimed that Jackson Lee's race had nothing to do with the furor over her seat. "I had no idea who was in my seat when I complained at the gate that my seat had been given to someone else," she told the Chronicle. "There is no way you can see who is in a seat from inside the terminal."
That didn't stop her from taking a photo of Jackson Lee and assuming preferential treatment rather than, say, an error in the app or an accidental cancellation.
Instead, Simon is digging in her heels, demanding a formal, written apology from United.
"It's just impossible to suspend disbelief and swallow that story that I canceled my flight," Simon said.
Read more at the Houston Chronicle.