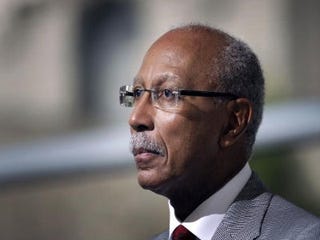 In her Detroit Free Press column, Rochelle Riley urges city leaders to work together as pressure mounts for them to consider a consent agreement being pushed by Gov. Rick Snyder that would help stabilize the city's finances and operations. She says the city needs them to come together now more than ever.
Gov. Rick Snyder said this morning that if his being a common enemy will result in Detroit Mayor Dave Bing and City Council working together toward a partnership to stabilize the city's finances and operations, he'll take the hit.
"You can go back to last fall when the mayor and city council weren't getting along, and they came together so they could both scream at me then," Snyder said in an exclusive interview. "Nobody likes to get yelled at. But if it helps solve the problem for the people of Detroit, I'm happy to do what I need to do, in a very constructive way, to play my role.
"I never want to be anyone's enemy but if the end result is the city of Detroit has a consent agreement, financial stability and better services for its citizens, so be it."
Snyder's comments came after days of rancor and public outrage over a proposed consent agreement that State Treasurer Andy Dillon wrote and presented to Bing last Friday. Bing reviewed the document, shared it with council members, then called Snyder on Monday morning to essentially tell him to go to hell.
It wasn't what the governor intended.
Read Rochelle Riley's entire column at the Detroit Free Press.