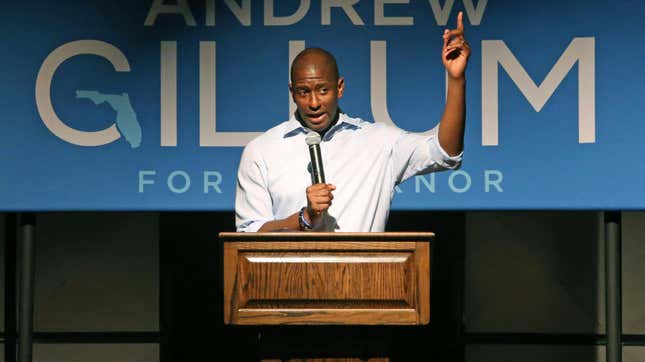 On Monday, federal prosecutors asked a judge to dismiss all of the corruption charges remaining against 2018 Democratic nominee for Florida governor Andrew Gillum. Just earlier this month, jurors acquitted Gillum of lying to the FBI. However, they failed to reach a verdict on more than a dozen other counts, including wire fraud and conspiracy.
Tackling A Black Maternal Health Crisis & Embracing Reproductive Justice | The Root Institute
In lieu of this development, will Gillum be able to revive his messy career? Back in 2018, prosecutors accused Gillum and his co-defendant (and longstanding political adviser) Sharon Lettman-Hicks of using tens of thousands of dollars that were campaign contributions for personal use. Prosecutors alleged that Gillum and Lettman-Hicks conspired to unlawfully solicit and obtain funds through "false and fraudulent promises and representations that the funds would be used for a legitimate purpose." However, on Monday the Justice Department filed a motion to dismiss the charges against both Gillum and Lettman-Hicks.
The judge avoided ruling on the motion on Monday. Gillum lost the 2018 race for Florida governor to Ron DeSantis (R), who currently holds the position. Following news of the dismissal, Gillum tweeted out "But God" Monday with a screenshot of the government motion.
In 2020, the former Tallahassee mayor was embroiled in a salacious scandal when Gillum was found inebriated in a hotel near Miami with an escort who had overdosed. Shortly after, Gillum took a break from the public eye and entered rehab for alcoholism.
He and his wife R. Jai also made an emotional appearance on the Tamron Hall show in 2021 where Andrew shared that he was bisexual. "I believe we're all entitled to mistakes," he said. "And I believe we're entitled to those mistakes without having every other respectable and redeeming part of our lives invalidated."
He also didn't rule out a political comeback, which may be possible following the relief Gillum has received from legal trouble. "There is not a thing that has happened in my life—scandalous or not—to cause me to believe that if I have service to give an elected office as a means in order to render, that I couldn't do that," he stated. "Now, would it be hard? Absolutely. But Donald Trump [was] president."