Cam'ron is a lot of things. He's a polarizing rapper, a top-flight interior decorator, and the proud owner of real estate in Bill O'Reilly's head. Though he's taken some Ls in his day, one thing Cam'ron rarely is? Entirely off-base.
Case in point: the first verse from Dipset's new single, "Stay Down." Coming from Cam'ron, the one-time Roc-A-Fella records act who lobbied co-owner Dame Dash for Kanye's inclusion on Roc projects, a few of these bars might hit a little close to home for Kanye—provided they make it through the sand in his ears.
(Emphasis added for shade.)
Dame Dash my man, he shootin' then I'm buckin' with him
They shootin' at us? Shit, I'm duckin' with him
But I had to be firm and tell 'em that Kanye only fuck witchu when no one else is fuckin' with him
He told me he was bipolar
I looked and said, "Bipolar?"
Don't be ridiculous, he wasn't in the mix with us
Bricks from Hamilton Terrace
He didn't take the risk with us
Ain't boil a coffee pot, ain't open the barbershop
Where we sold hydro at, where we pissed off the cops
The ones in the Taurus, nigga, he a tourist
Uncle Tom nigga know nothin' about this chorus.
G/O Media may get a commission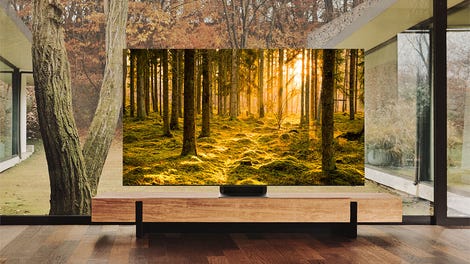 Up to 40% off
Samsung Smart TVs
First, I'm grateful that Cam'ron's...consistency allowed me to hear this in my mind without having to listen to it, as listening to Dipset in 2018 is like paying to watch two washed-up golfers play for literally no reason. More importantly, however: he's not wrong. A brief scan of Kanye sightings with Dash in tow reveal down moments for West, who has been rumored to be on the outs with Jay-Z and Beyoncé since his marriage to Kim Kardashian, (i.e. the joint attempt of Ye and Dash to purchase online streetwear retailer Karmaloop, and, you know, right now).
This is the second time West has incurred Cam's wrath on record, the first being 2017's "Coleslaw." It seems even a washed clock is right twice a day.