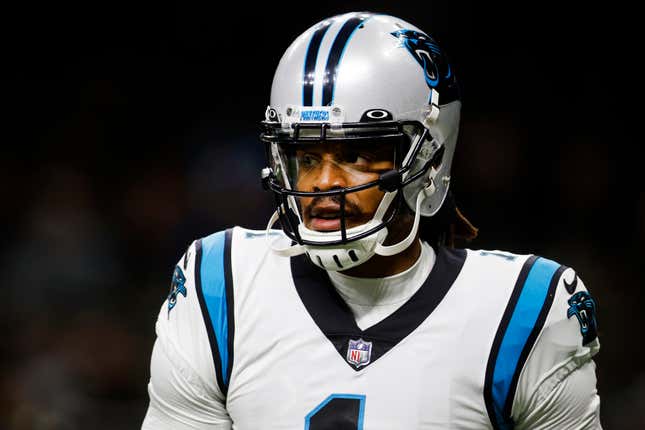 With the NFL Draft approaching on April 27, top college players are looking to increase their chances of being drafted by showing off their skills at their school's Pro Day. These events are important because there's often so much going on and so many players to keep track of at the NFL Combine, it's hard to really stand out. Prospects at Auburn University are getting an extra boost of star power to help them out, as one of its most successful alums announced he will be participating in the program's Pro Day on Tuesday.

Michael Oher On New Book, NFL, The Jets, Aaron Rodgers, Running Backs Contracts & He Sings!
On Monday, former NFL MVP Cam Newton announced he will throw for the Tigers during Pro Day. He revealed the big news in a video on Twitter, where in typical confident Cam fashion, he said, "Tell me how these randoms keep getting jobs? Don't worry about it. I'm going to show you. I can't wait to show you." After some practice footage of him throwing the ball, the clip ends with Cam reminding everyone "ain't 32 mother fuckers better than me."
This is an amazing opportunity for these receivers to show that they can truly hang with NFL caliber players. As huge as college football has become, it's still no comparison to the NFL. Football analysts frequently point to the difference in speed and power between the college game and the pros. No matter how talented top prospects are, NFL teams will always question whether they are really ready for the next level. Seeing them on the field with a former MVP, who's played in the Super Bowl, will help determine if these athletes are prepared for what comes next.
And let's be honest: Cam isn't doing this just because he wants to help these kids show out. This is also about showcasing that his career is not over. He re-signed with the Carolina Panthers for the second half of the 2021 season, but spent the bulk of it splitting the starting job with P.J. Walker. The Panthers lost the five games in which Newton was the starting quarterback. While this wasn't all on Cam, it doesn't help fight the perception that he's done. It also doesn't help that he didn't play a single snap during the 2022-23 NFL season.
If he can show that he's still got something left, perhaps one more team will take a chance on the 2010 Heisman Trophy winner. I've never been one for telling athletes when they should retire. Unless they're doing serious physical harm to themselves, they should enjoy their sport as long as they want. But at this point in his career, Cam's best contribution to an NFL team comes off the field as a possible mentor for players like Tua Tagovailoa or Josh Allen.