A mistrial has been declared in the case of a California man who spent 16 years in prison before his murder conviction was overturned, the Los Angeles Times reports.
The mistrial comes as a Compton jury deadlocked Tuesday on charges of mayhem and assault with a deadly weapon in the case against 42-year-old Reggie Cole, who is accused of shooting a fellow gang member in the leg after he refused to sell cocaine for Cole, the Times notes.
Judge Allen J. Webster declared the mistrial after the jury foreman said that the jurors were unable to reach a verdict after more than two days of deliberations. According to the report, the jury was hung at 9-3 in favor of convicting Cole on both charges.
Cole was released from prison in 2011 after serving 16 years of a life sentence for a 1994 murder.
 According to the Times, prosecutors intend to retry the case, and a new date has been set for mid-June. If convicted, Cole faces another life sentence in prison.
G/O Media may get a commission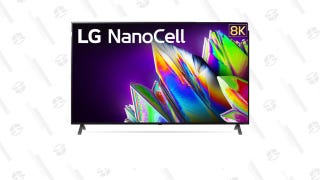 LG 75-Inch 8K TV
Read more at the Los Angeles Times.