In 1992, Los Angeles erupted in violent opposition to the not guilty verdict for four police officers captured on video brutally beating Rodney King within an inch of his life. Twenty-five years later, there is no shortage of documentaries examining the Los Angeles riots.
A&E aired South Central native John Singleton's L.A. Burning Tuesday. ABC is airing longtime Los Angeles resident John Ridley's doc Let It Fall: Los Angeles 1982-1992 April 28. The Smithsonian Channel and National Geographic depend on raw footage for their documentaries The Lost Tapes: L.A. Riots, airing April 23, and L.A. 92, airing April 30. And tonight, Friday, Showtime airs its doc Burn Motherf*cker, Burn! from Sacha Jenkins.

New Yorker Jenkins, who has no deep ties to Los Angeles, isn't a likely choice. Jenkins distinguished himself first as a hip-hop journalist known for co-founding the influential '90s magazine ego trip, and made his directorial debut with his 2015 hip-hop fashion doc, Fresh Dressed, currently airing on Netflix. Jenkins' Burn Motherf*cker, Burn! is interesting in that it is just as, or arguably even more, invested in the 1965 Watts riots.
"I was tasked with making a film about what happened in '92 and I wound up trying to make something that goes well beyond that and gets people closer to understanding how people get to a place where it's 'Burn, motherfucker, burn,'" explains Jenkins.

"Obviously, I wasn't around in '65, but in doing the research and looking at how it went down and why it went down, outside of black-and-white versus color footage, it's the same people in the same area doing the same things for the same reason, and at the core of it is police abuse," he expounds.
G/O Media may get a commission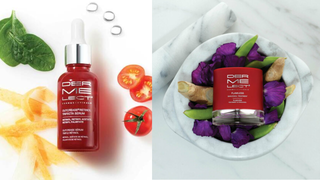 Save $19
Retinol Renewal Kit
"If you were to cut the film in half and put all the stuff that led up to Watts side by side with everything that led up to '92 and what happened," he says, "they're like twins. So that's why I wanted to connect the story with contemporary people, but with elders who were there."
One elder is Dr. Perry Crouch, who was at both riots. Civil rights activist Danny Bakewell and Rep. Karen Bass are among the more well-known elders. But Burn really gets its push from everyday people, especially from Watts. As they discuss the rampant and unchecked police brutality of the 1960s, it is crystal clear that the Los Angeles Police Department has more than Rodney King to atone for. Archival footage of community gatherings is particularly compelling. And so is footage of Malcolm X addressing police attacks on members of the Muslim temple there in 1962.
"When Malcolm X gives that speech after the shooting at the mosque, he's like 'You gotta tell the white man how you feel,' basically stop b.s.-ing and keep it 100; if he can't learn to clean his house up, maybe it should burn down, and this is in 1962 before [the Watts riots]," offers Jenkins.
Burn also uses archival footage to highlight how off white Americans' views about the black American experience in this country truly were at the time. "It just shows you the disconnect that Americans have with American people, and the problem is African Americans aren't considered American. They're considered African American, and the value on the people, places and tangible things that we create is not there. America doesn't value those things," Jenkins says.
"I think it's important for people to connect with history to look at where they stand in history," he says.
And, to that end, he falls back on his substantial hip-hop background and enlists a number of rappers who represent a cross-section of Los Angeles to hopefully engage more people with that history. There's onetime Ice Cube protégé Kam and Latino rapper B-Real of Cypress Hill. Everlast of House of Pain fame candidly weighs in on how he and other white people viewed the Rodney King beating based on their upbringing. Jenkins, who offers an overview of the LAPD's history with the black community, even includes current LAPD Chief Charlie Beck.
Latasha Harlins, the 15-year-old who was shot in the back of her head by Korean female liquor store owner Soon Ja Du days after Rodney King's beating, is not forgotten. Du's punishment of a mere $500 fine, 400 hours of community service and five years' probation by a white female judge, when, based on the jury's decision, prison time was warranted, sparked outrage.
Burn not only checks in with Latasha's family but also explores the Korean community's reaction, particularly in relation to "Black Korea," the song Ice Cube created in response to Latasha's murder and tense relations between Los Angeles' black and Korean communities. To this end, Jenkins uses former hip-hop journalist Jeff Chang, professor and author of Can't Stop Won't Stop, which chronicles hip-hop's early days, who is also Asian.
"You can't tell this story without including all the participants," Jenkins insists. "I wanted the Korean perspective to be represented in a way. I used 'Black Korea' as a way into further understanding how people were feeling after LaTasha Harlins' [murder] but also setting the stage for folks in the Korean and Asian community to speak on how that song made them feel."
Of course, Jenkins has high hopes for Burn, but not in the way other filmmakers might. As a black man, he is personally invested in this history and truly wants to move the needle with people.
"I hope it helps people understand that all this stuff that's happening is not new," he says of Burn. "It's been happening for the same reasons for generations and generations, and hopefully, people will pay attention."
Because he is also realistic, he realizes that real change has to happen with more than just black folks.
"Until people are willing to have honest, uncomfortable conversations about how they feel, nothing is going to change," he says.
The film Burn Motherf*cker, Burn! premieres Friday, April 21, at 9 p.m. ET on Showtime.