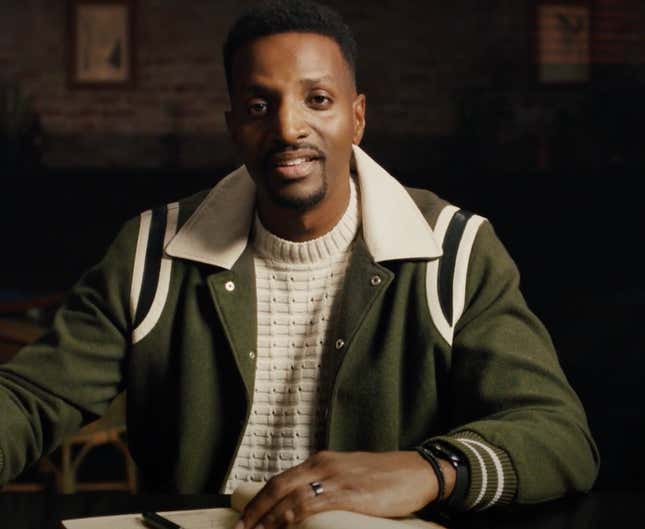 Award-winning whiskey brand Bulleit Frontier Whiskey has launched an ongoing effort to champion up-and-coming artists, and they've enlisted the help of GRAMMY-nominated spoken word artist J.Ivy to help them do it. The Bulleit Pioneer Project is the brand's multi-year, multi-layered commitment to supporting those doing big things across art, sustainability, food and technology.

Going into GRAMMY weekend, they're premiering "A Toast To The Times," a 90-second film featuring a poem written by GRAMMY-nominated spoken word artist J. Ivy. His words celebrate those living on the frontier of culture who "aren't afraid to tap into their greatness," along with mixed media visualizations curated by Mexican filmmaker Carlos Lopez Estrada.
You can check out the film, which drops today, here:
The film comes six weeks after the announcement of the Bulleit Remix Challenge - a search for talented lyricists who submitted verses for an opportunity to receive a mentorship session with J. Ivy and a trip to the UnitedMasters' Celebration of Independence, an official GRAMMY's party.
The brand also announced the Bulleit 100-Hour Commitment - a partnership with music and creator platform, UnitedMasters, providing emerging artists with 100 hours of mentorship and access to UnitedMasters' top talent, including musicians, writers, producers and DJs.
"Since the beginning, Bulleit has not just embraced the new – but invented it - and this is why we seek out those at the forefront of their craft. The year ahead is exciting for us - not just because we'll continue to collaborate with other world-class talent - such as J. Ivy and Carlos Lopes Estrada - but because we can play a part in giving a microphone, a pen or a stage to the next pioneers in culture," said Sophie Kelly, Senior Vice President of Whiskies at Diageo North America.
The Root spoke with J. Ivy, about the partnership with Bulleit and the impact mentorship can have on emerging artists.
Ivy, who is nominated for a GRAMMY this year in the newly-created Best Spoken Word Poetry Album for his studio album, The Poet Who Sat By The Door, says he attributes his success to the support of those who have encouraged him along the way, including family members, other artists and a high school teacher. And he says the partnership with Bulleit is the perfect opportunity to pay it forward and inspire a new generation of creatives.
"There is just so much opportunity in front of them. They have the opportunity to shift and move the culture forward," he said. "So for me, whenever I get a chance to offer some encouragement to those coming up, I'm all for it. I know that they can take that jet fuel and turn it into new possibilities."
And the inspiration flows both ways. After spending time with these rising talents, Ivy says he's hopeful for the future. "There are some powerful, creative people out there who are doing some amazing things. And a lot of times, all it takes is an opportunity or someone to lend that listening ear. And it just opens up a whole new world for people."
As he looks ahead to the GRAMMY's this weekend, Ivy's message to other artists is to stay on your grind.
"To all the creatives, just keep going. Be fearless. Do what you do and know that the love you're putting into the world will be reciprocated."