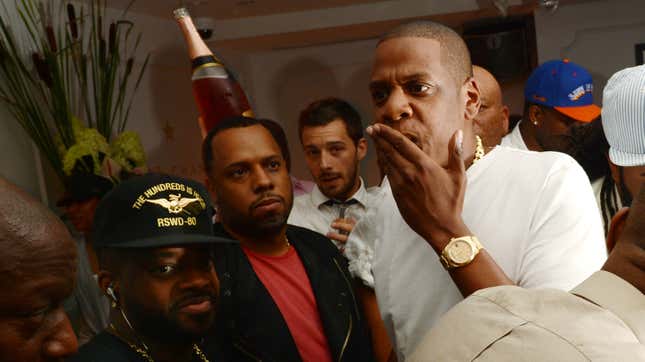 Up until last week, one of Black Twitter's conundrums is deciding whether to choose $500,000 or an apparent lucrative dinner with Jay-Z. Well, Jermaine Dupri may be able to tell us just how beneficial that hypothetical dinner would be.
My Hip-Hop Story: Cedric The Entertainer On Jay-Z and His Indisputable Role In Shaping The Genre's Culture
Jay has been all over the news recently after holding a press conference with NFL Commissioner Roger Goodell announcing a multi-year partnership with the professional sports league, in which the 49-year-old rapper will consult on the halftime show and work with the league's activism campaign, Inspire Change.

Apparently, veteran record producer and songwriter Bryan Michael Cox had some choice words about the situation when he appeared on Loola TV recently.
The Jay-Z topic starts around the 14:35 mark.
"I'm not saying that it can't turn into some good shit," Cox noted. "We're also talking about a guy who single-handedly picked up the phone and called Jermaine to tell him not to do it....When we all had that meeting with the NFL, all that shit was part of the same shit."
"I'm not gonna condemn it and be like, 'That shit's wack,'" Cox added. "For me, I want to look at it intelligently because I know a lot of what was happening before and how we were engaged last year as a community...At the end of the day, [Dupri] took a beating for doing the same shit. And I guarantee you they didn't pay him as much as they're about to pay [Jay]."

Jay's decision has been quite the divisive topic in the community, with one side believing he can affect change while the other believes it is all very self-serving. Naturally, celebrities have been asked to speak their piece, including Cardi B. The Invasion of Privacy rapper believes Jay's partnership could bring about something positive in the long-run.

"I feel like Jay-Z can bring back Colin Kaepernick," Cardi told TMZ. "I feel so. I feel like he has that power. I feel like Jay-Z can do it."

As far as Jay's motives, only time will tell, but the flip-flop nature of this whole thing certainly gives pause.

Oh, and just in case you have any "reasonable doubt" regarding the veracity of Cox's claim, The Root has reached out to Dupri's team for comment.

Update: 8/19/2019, 11:16 a.m. EST: While we await Dupri's comment, Funk Flex apparently spoke with him on the phone and (loudly) confirmed it on Twitter.