"I am definitely not [right]."
That's what we imagine Rachel Dolezal Nkechi Amare Diallo's edges say at least a half dozen times a day, as they do the Lord's work trying to hold onto the pounds of hair she keeps insisting on braiding into her scalp with vice-like precision. It's not a haircare technique we'd suggest for anyone; on Dolezal/Diallo, it's simply yet another occasion to ask, "for why, though?"
"Every time I see this video my edges hurt," remarked Tonja Renée Stidhum, The Root's entertainment writer.
"Mine too," responded Michael Harriot (who notably wears a skin fade).
"She has no edges," said writer Monique Judge, exceptionally skilled at stating the obvious.
With that in mind, we're now extending the "for why, though?" question to legendary black-owned haircare brand Bronner Brothers, after they devoted a now-deleted (or hidden) Facebook post to Dolezal, lauding her apparently stellar use of their bestselling Pump It Up! Gold Styling Spritz—a stalwart in the beauty routines of generations of black girls everywhere. Posting a video of home hairstylist Dolezal giving a tutorial on how she braids her own hair in the back of her head, the brand captioned the post:
"Excellent use of our #PumpItUp! #RachelDolezal #bronnerbrosbeautyshow #bronnerbroshairshow #mytropicalroots #bronnernaturals #neworleans #pumpitup #pumpitupchallenge"
Umm...for real, Bronner Bros.? This is how we're doing it in 2019? Neither we, nor the brand's followers were amused, as evidenced by more than 1,500 comments.
"Why are y'all promoting this? Smh. Definitely not the same management?"

"There are hundreds of amazing and qualified black [stylists] and this is what you do Bernard Bronner. Absolutely ridiculous"

"This is a disgrace."

"Bronner Brothers' social posts have been kinda fucked up for a minute now. Like who in the hell is running y'all's program? Cause this ain't it at all."
G/O Media may get a commission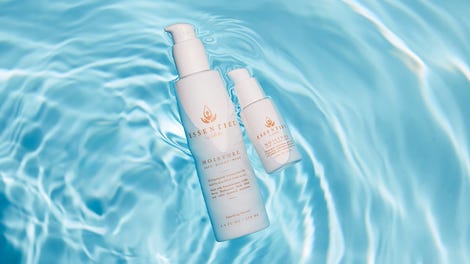 20% off
Essentiel by Adele
Don't get us wrong: we're all for multicultural beauty. But for Bronner Bros. to affiliate themselves with Dolezal feels about as thirsty as she generally is. Not to mention that it's simply irresponsible for a haircare brand to promote self-induced alopecia out here in these streets.

"Where are her edges?"

"The ancestors are coming for those edges"

"As a white stylist that does black hair I can say this is a slippery slope. HOWEVER, as a brand that is geared towards black customers I find this inappropriate. It's not the fact that a white stylist is using the products, it's that a white stylist is pretending to be black. Appropriation and appreciation are two different things."

"You're not going to do this on black history month. You're not."
As we're currently in the first full week of what we've dubbed Black-Owned Beauty Month here at The Glow Up (nicknamed "Black-Ass Beauty Month" by me), we really don't take any pleasure in criticizing the largest privately-held black hair and skin care producers in the United States—and at 72 years old, one of the oldest. Not to mention that Bronner Bros. is the creator of the largest multicultural trade show in the country, if not the world. They've set the standard—now, arguably, they're lowering it.
With all that incredible history and ongoing success, whose bright idea was it to pub Dolezal's highly questionable brand (and painful-looking braids)?
This is a social media fail, plain and simple—and our edges heads hurt just trying to do the mental gymnastics to understand the marketing logic here. Bronner Bros., we get that you're likely lovers, not fighters. We just think you're better than this.