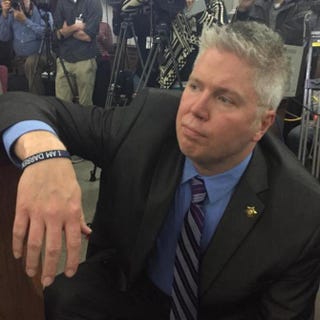 A St. Louis City Hall meeting held to discuss the possible installation of a civilian oversight board at the St. Louis Metropolitan Police Department went up in flames after a scuffle broke out, the Huffington Post reports. The mission of the board would be to smooth over the relationship between local communities and police officers in light of Michael Brown's August 2014 shooting death in Ferguson, Mo.
According to the report, the mood of the meeting took a dive after St. Louis Alderman Terry Kennedy and Jeff Roorda of the St. Louis Police Officers' Association had a tense exchange.
Roorda, who was photographed wearing an "I am Darren Wilson" bracelet in support of the now-former officer responsible for the unarmed teen's death, reportedly was yelling from the audience, "How about some order here," after one officer's remarks were interrupted.
Alderman Kennedy responded, "You don't tell me my function," to which Roorda started moving toward the front of the meeting hall, allegedly pushing a woman while making his way forward.
"I was literally just trying to leave the meeting, and I got caught in whatever Roorda and Kennedy had going on in their exchange," Cachet Currie, the woman who was reportedly pushed, told KMOV. "Roorda just jumped out into the aisle, pushed me over and tried to get to Kennedy. I'm like, 'Wait a minute, don't push me.' Then he started going off on me, pushing me."
Roorda denies pushing Currie.
The meeting was eventually brought back to order, and there were no injuries or arrests reported after the incident. 
Read more at the Huffington Post and KMOV.