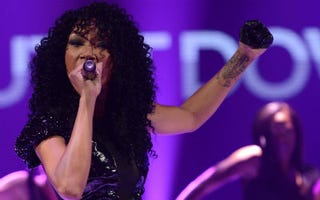 R&B singer Brandy is ready to end the quiet spell since her last album, 2008's Human. She returns with a new project entitled Two Eleven. Billboard is reporting that the artist, famous for her braids and Moesha TV show, has released two new songs from the upcoming album: "Put It Down," featuring Chris Brown, and "Wildest Dreams."
This week, the singer released her second single, "Wildest Dreams." "It's about love. It's about falling in love with someone and it's almost like it's too good to be true. It's a  mid-tempo. Sean Garrett did that one as well," she said. "I'm excited about that because it's like a 90s 2012 record." 

Aside from Sean Garrett, "Two Eleven" is to feature a duet with Frank Ocean, production by Bangladesh, Jim Jonsin, Timbaland, and songriting by Rico Love and possibly Drake. "Drake did write a song, i haven't recorded it yet. But he did write I song that I absolutely love. We'll see if that happens," Brandy told The Juice.
Two Eleven is slated to hit shelves on Oct. 16. 
Read more at Billboard.