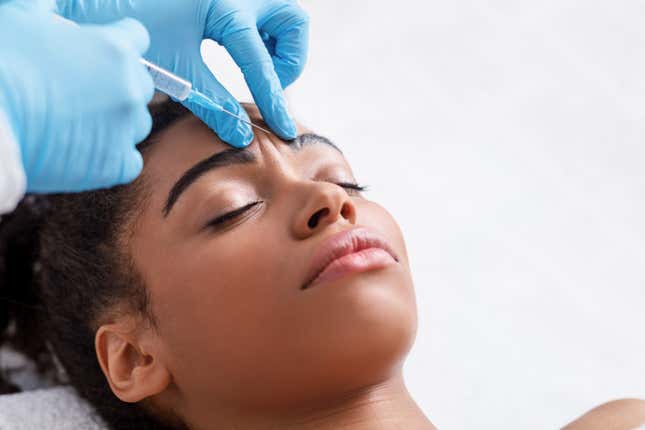 Every Black woman knows that any amount of perspiration or precipitation can be kryptonite to a fresh relaxer, blowout or silk press. It's the reason why, after spending all of that time and money in the salon, we'll do anything not to mess up a hairdo. But now, some Black women are taking extreme measures to make their locks last.
Mosquito Bite? Here's A Hack In Every Home That'll Stop the Itch
According to a new report in The Washington Post, an increasing number of Black women are using Botox injections to keep their edges laid.
"It was the best $400 I've ever spent. It really was life-changing," Shanese Francis told The Washington Post in an interview. "I felt relieved and was definitely more comfortable in my own skin."
What does Botox do?
Botox, the brand name for a botulinum toxin injection, came on the scene marketed as a key to the fountain of youth by relaxing the muscles in the face that cause wrinkles. Since then, doctors have also prescribed the drug to treat things like migraines, depression, overactive bladders and excessive sweating. Yes, you heard that right: excessive sweating.
Botox injections are used to block the nerve signals responsible for producing sweat. And rather than worry about whether an edge gel will last throughout the day, more and more Black women are seeking out doctors who can help them keep their baby hairs in place with the touch of a syringe. And Black women are finding that it's giving them the freedom to move the way they want to – literally.
"There are so many women, particularly Black women, who are not working out or not doing what they can do to best promote their cardiovascular health because they feel the constraints of always keeping their hair a certain way," Michelle Henry, a Black dermatologist, told The Washington Post. "After they get Botox in their edges, I get reactions like 'This has not only changed my ability to work out but it's changed my work life.'"
Although this whole thing is news to me, I was surprised to learn that this ain't nothing new. A 2017 article in US Weekly covered the rise of "Blotox"– essentially white women using Botox to make their blowouts last longer.
How much does Botox cost?
But, as they say, nothing lasts forever. If you're trying to make your hair last, it's not just one and done. Botox only works in the area of the injection for three to six months. And at $300 to $500 a pop, these shots don't come cheap.
You also have to consider the side effects, which can include pain or swelling in the injection site, flu-like symptoms, or upset stomach. Some women have also experienced hair loss as a result of Botox injections, like journalist Jewel Wicker, who tweeted in 2022 about the hair loss she experienced after Botox treatments for migraines.


A sidenote about side effects
It's important to note that while Botox is an FDA-approved drug, you should still proceed with caution. Experts agree that Botox is safe when administered in small doses by a licensed professional, but not all agree that it is safe for other off-label uses.