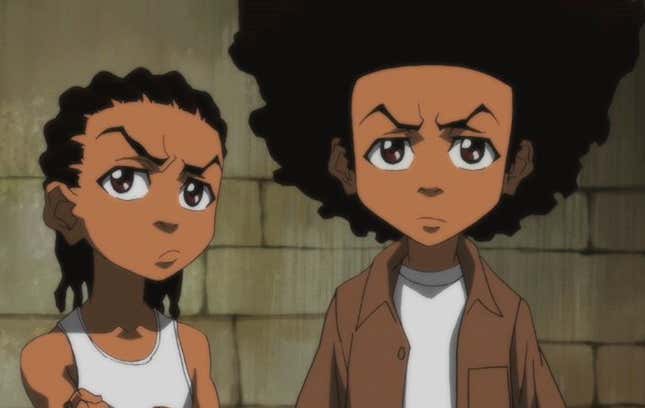 I know, I know. That's a great headline.
It's also one I had nothing to do with, because it was managing editor Genetta Adams' reaction to the news that after five years of dormancy, The Boondocks will apparently be making its triumphant return. (Shoutout to fellow staff writer Tonja Renée Stidhum for suggesting it as a headline.)
Fighting "Lie-abetes": How To Spot And Combat Disinformation and Conspiracies In Politics | The 411: Part 2
But considering the fact that Regina King—who voiced brothers Huey and Riley Freeman in the series—has since gone on to rack up Golden Globes, Emmys, an Oscar and millions, the streets wanna know: Do they got Regina King money?
Comedian John Witherspoon—who played Granddad—might not have the answer, but during his recent appearance on The Joe Rogan Experience podcast, he confirmed that the dearly departed series is in pre-production.
"I'm on the cartoon. What is it? The Boondocks? I didn't change my voice for The Boondocks. And they coming back," he said. "[The] Boondocks is coming back... It's one of the best cartoons I've ever been on."
Depending upon who you ask, it's also arguably one of the best cartoons of all time.
No word on the involvement of executive producer Carl Jones, producer Brian Ash or creator Aaron McGruder, so it's best to remain cautiously optimistic. Especially considering McGruder had no involvement whatsoever with the much delayed, final season of The Boondocks in 2014 and only offered a tepid response when asked about the show's return in January.
In February, we got a brief glimpse into what the future of the series could entail when McGruder gave Charlamagne Tha God the green light to publish a series of new comic strips on Instagram featuring our favorite cast of characters.
So while we wait with bated breath for the band to get back together and new episodes to surface, we're all still wondering: Will they have Regina King money?