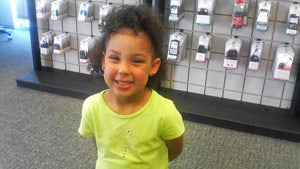 The body of a 5-year-old believed to be Shaniya Davis was discovered Monday in Fayetteville, N.C. Authorities are awaiting identity confirmation, but believe it to be the little girl. From CNN:
"The body was located by searchers shortly after 1 p.m., Chance told reporters. People at the scene, including searchers and police officers, were "torn up," she said.

The search focused on land near a roadway because "reliable information received that the body of Shaniya Davis may have been dumped there," a police statement said.

Investigators have been searching for Shaniya for several days.

Police have charged her mother, Antoinette Nicole Davis, with trafficking and other offenses, authorities said. Davis was "prostituting her child," said Chance.

…

Other charges against Davis include felony child abuse and prostitution, as well as filing a false police report, according to the police department.

The girl's mother told police that the girl vanished from their mobile home in Fayetteville. However, hotel surveillance video taken around the same time Shaniya was reported missing shows her with a man identified as Mario Andrette McNeill. He has been charged with first degree kidnapping."
Read the full article, including family reaction, on CNN.
*Sigh*