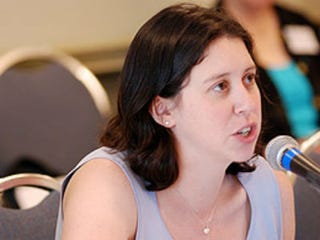 Blogger who trashed black studies fired: After Naomi Schaefer Riley wrote a blog post for the Chronicle of Higher Education calling black studies "claptrap" based on the titles of a handful of dissertations, nearly 6,500 people signed a petition calling for her dismissal from the blog. Yesterday Liz McMillen, the site's editor, wrote a note apologizing for Riley's post and said that the publication had decided to part ways with the author, who is also an affiliate scholar of the Institute of American Values, a conservative think tank based in New York.
Voter registration down among blacks: The number of black and Hispanic registered voters has fallen sharply since 2008, posing a serious challenge to the Obama campaign in an election that could turn on the participation of minority voters, the Washington Post reports.
Shaq gets degree, wants to go to law school: Sporting a triple-extra-large red robe and a black cap, the 7-foot-1, 325-pound former center, now a basketball analyst for TNT, received a doctorate in education from Barry University in Miami Shores, Fla., over the weekend. According to ABC News, he wants to go to law school next.
Chuck Brown health mystery solved: The "Godfather of go-go" has pneumonia, the Washington Post reports.
Bobby Brown to marry next month: According to TMZ, Brown and fiancée Alicia Etheridge have finally set a wedding date after two years of engagement bliss … and it's the same weekend Brown's band New Edition will be performing in Honolulu.