Black Women OWN the Conversation, a collaboration between OZY Media, co-owned by Carlos Watson, a former CNN and MSNBC analyst, and the Oprah Winfrey-branded network OWN, is a historic first for television. Launched August 24, the series features panels of such well-known women as Stacey Abrams, singer Monica, comedic actress Kym Whitley, Pose star Angelica Ross, political commentator Angela Rye, Queen Sugar's Tina Lifford, California's first-ever surgeon general Dr. Nadine Burke Harris, model Winnie Harlow and cultural critic Brittney Cooper, among many others, in conversation in front of an audience of 100 black women. Ultimately, all four conversations on the topics of "Beauty," "Motherhood," "Love" and "Mind, Body and Soul" take place with an audience of 400 women in all.
Toheeb Jimoh Talks The Power, Acting With Toni Collette, & Ted Lasso on That's So Random
Filmed in Atlanta in early August, conversations became very reflective and sometimes heated. Just before taping the unprecedented series' third episode, showrunner Jennifer Ryan, most recently a co-executive producer of daytime talker The Real from 2015 to 2018, shared that great care was taken in selecting the 400 audience participants. "We spent a lot of time making sure that everyone was represented in that well. So we made sure [using] our questionnaire that [the women] invited had different points of view because we can all sit here with the same point of view and not really learn anything from each other."

The same can be said of the panelists, who often offer a different perspective even when they happen to agree with one another. Some conversations, like the one about spanking during the "Motherhood" session with Angela Rye, actress Ryan Michelle Bathe and Dr. Nadine Burke Harris, hit a nerve. Bathe, who stars in First Wives Club for BET+, felt so strongly about not using "corporal punishment" with her two sons with This Is Us star Sterling K. Brown that she penned an essay in People about it in June. During this discussion, Dr. Burke Harris, who is Jamaican, was even more vocal against spanking.

Following the session, Burke Harris admitted that spanking is a hotbed issue because "these patterns are handed down. Many people who have spanked or beat or used physical discipline on their kids it's not that they want to harm their kids." Instead, they have the best of intentions. But one thing that Black Women OWN the Conversation also reveals is that there are many different conversations taking place among black women.

G/O Media may get a commission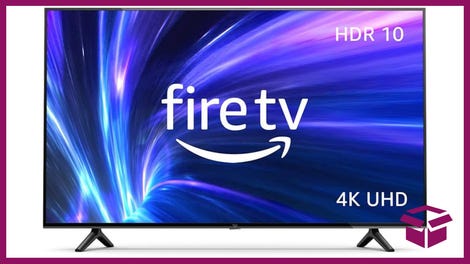 42% Off
Amazon Fire TV 50" 4K Smart TV
During the very first conversation, the "Beauty" session, Stacey Abrams revealed that, outside of her parents, she didn't feel beautiful. Instead, people praised her for her mind, so she ran with that. Hair was another triggering issue, with one woman expressing her dislike for weaves and wigs. There was also discussion around the CROWN Act, which legally protects black women from natural hair discrimination, has been championed by Dove and was recently passed in California and New York.
"It's wonderful hearing all the different ways people have thought about beauty and people have thought about motherhood," Carlos Watson told The Root after the first two sessions were filmed. "I think one of the most interesting things about the conversations is how much people have talked about inner strength and self-strength and how important that is in whatever we do. And it feels like more and more women are either finding that courage or encouraging others to find it [and] I think there's something beautiful about that."

Watson's role as host was questioned by some on Twitter. "Okay, so #BlackWomenOWN is pretty good. Wish there was a woman host, but the topics were good!" tweeted @TellySoSweet. Pose star Angelica Ross, who participates in the Love session, even chimed in.
"Not gone lie. The FIRST question I asked myself was "why is a man moderating this panel?" Ross tweeted. But Ross also commended and defended Watson, adding "But to see him just asking questions & focusing on getting more women speaking is nice. He's not distracting. Not saying a woman couldn't have done the same though."
Although black women are the face of this series, Watson and OZY are not new to the format. In 2018, Watson hosted the Take On America with OZY series on PBS. Using the same format, the series engaged white women in Nashville, black men in Baltimore and more. Ryan, who just joined the team to serve as showrunner for this series, credited Watson for facilitating such powerful conversations. "I think Carlos creates a comfortable environment and a safe place that allows these women to really expose themselves."
In the "Love" session, the third installment of the series, Ross herself is enlightening. In a very intimate and powerful moment, her mother shares from the audience how she was able to finally accept her son as her daughter. For Ross, being a part of the discussion was of paramount importance.

"It's so necessary for black trans women to be more visible when we're having a conversation about black communities because oftentimes the most marginalized end up becoming completely invisible and there are many people who are not trans—women and men—who are not aware of the issues that we're facing within our own community," she told The Root. "The violence. And what ways that we participate in keeping that same status quo alive."
For Brittney Cooper, speaking to The Root prior to participating in the "Mind, Body and Soul" session, this conversation series is necessary because "black women rarely get to the center of the conversation about the things that concern them, and so this is an opportunity for black women to be able to talk together and for other folks to be able to hear our voices and perspectives and for us to say the things that really matter."

Following her "Mind, Body and Soul" session, Tina Lifford shared that she was happy she participated because "we're normalizing [the conversation of self-reflection]. As it becomes normalized, we give ourselves greater permission to heal and we give ourselves greater permission to become who we are beyond the limitations that we've been burdened with, and that's powerful."

Angela Rye, who is now raising her two godsons and participated in the "Motherhood" discussion, believes that "the best thing that we [as black women] can do is to understand our power." For Rye, that power extends beyond the discussions looking inward and also have to be applied to the political arena.

"We've been talking about for some time how black women are the most loyal voting block of the Democratic party," she explained. "When we turn out, our families turn out. When we turn out, our friends turn out. When we turn out, our congregations and our communities turn out, and so I think the most important thing is that we understand that this isn't about just going to exercise the vote, but it's also about not just shaping the narrative but shaping what elected officials have to answer for and to. So that means building and constructing an agenda that people can support, especially our own communities."

As showrunner Ryan told the women in the overflow crowd before every session, the end goal of these sessions is for black women "to take that information back to the community, your families, your jobs and keep the dialogue happening and keep pushing our community further."

Black Women OWN the Conversation, which premiered August 24, continues every Saturday on OWN at 10 pm ET until September 14.