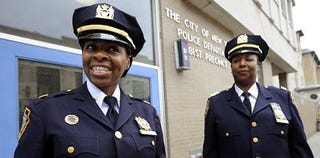 News One is reporting that two African-American female cops are making history at Brooklyn's 81st Precinct in Bedford-Stuyvestant. Deputy Inspector Juanita Holmes and Capt. Vanessa Kight are now the top cops, having been named to the two top posts. Women make up 17.2 percent of uniformed officers in the NYPD. African Americans make up 16.5 percent of the uniformed force, with 5.6 percent being women.
The Daily News reports that Holmes, one of just three African-American female deputy inspectors on the force, was made commander of the 81st Precinct stationhouse a year ago. She celebrated her 24th anniversary with the NYPD yesterday. Kight, a 30-year NYPD veteran and one of 12 African-American female captains on the force, was tapped last week to be Holmes' executive officer.
Police Commissioner Raymond Kelly insisted that his trust in Holmes and Kight has nothing to do with their gender or race. "Deputy Inspector Holmes and Capt. Kight were selected to command because of their ability and experience," Kelly said. "The fact that they are both African-American women is coincidental to the extent that the NYPD has a deep bench when it comes to diversity and talent."
We love it when people say that race and gender have nothing to do with it, although these strides are taking place decades after blacks and women were allowed to become cops. There is no doubt that these history-making sisters will continue to make it happen. Good luck with making a difference in the NYPD and in the community that they serve.
Read more at News One.
In other news: Land Grab in Africa Creating Food Crisis?