In high school, Barrington Irving was a football star who never dared to imagine a career in aviation until he met a United Airlines pilot who asked him if he'd ever considered flying. A few years later he was in college on a full scholarship, studying aeronautical engineering. By age 23 Irving, born in Jamaica and raised in inner-city Miami, had become the youngest and first black person to fly solo around the globe.
Now Irving is 28, and his goals today have less to do with breaking records and more to do with giving students interested in aeronautics careers the same opportunities that propelled his achievements. At Experience Aviation Learning Center, which Irving founded while he was still in college, middle and high school students learn about aviation and aerospace through simulators, participation in hands-on NASA activities and chartering personal flight plans that call on their math, science, reading and geography skills. In 2008 he piloted a plane built entirely by those students.
Recently he was one of several young overachievers featured at the UNCF: An Evening of Stars, which will air Jan. 29 on BET. He has also been honored with a congressional resolution acknowledging his work, but he's not even close to being finished.
The Root talked to Irving about black children's relationship with math- and science-based careers, given that schools often fall short in making these topics interesting, and his lofty plans for a flying classroom.
The Root: Why don't more African-American kids pursue aerospace and other math- and science-based careers?
G/O Media may get a commission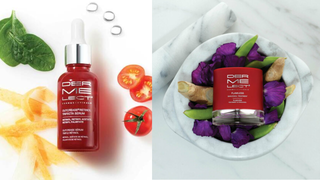 Save $19
Retinol Renewal Kit
Barrington Irving: I really think the biggest thing is lack of exposure. Even for myself — I was a high school football star, and I always thought aviation was cool, but I didn't think I was smart enough to do it until I met a United Airlines pilot. That changed it for me.
I start with exposure, from my global flight, to building into the [Experience Aviation Learning Center] program a project where kids build an airplane in 10 weeks, to talking at conventions. We're able to pique student interest, and we take that and develop it into passion.
We provide students hands-on opportunities to build different things. We provide them with field trips to air shows, business and aviation conventions and so forth. We provide them access to professionals within the industry who look like them and talk like them, and they have the opportunity to speak with those professionals and ask the questions. That's what worked for me, and I've just figured out a way to do it on a larger scale.
TR: Why is your program so important? Are these subjects not presented to kids in school in a way that's compelling to them?
BI: They're not. Math and science are subjects which, for the average American student — and especially minority students and students from low-income areas — are not as appealing because half the schools don't have the resources to make them interesting or fun.
I think the biggest gap we have is that the average student cannot relate math or science to a particular career, to what they have to do with real life. That's the purpose of the hands-on projects — to allow for creating excitement around math and science and show that they are relevant. Once they get connected, they're actually interested in pursuing these careers.
TR: What's next for you?
BI: My next big project is transforming a light jet — an Embraer Phenom 100 — into the world's first flying classroom, which I'll use to teach kids from 41,000 feet in the air. Kids will log in online as I fly to different destinations around the world, to all seven continents. I'll be able to teach them in the air and also teach them when I land. The lessons will highlight different careers and advances in technology.
To give you an example, I will fly to Tanzania. I'll go on a safari and [learn hands-on about the requirements of a veterinary career], and after that kids will have their own opportunity online. It's going to be major. A number of educators have told me this is really going to impact the way kids interact with math and science.
TR: Three pieces of advice to parents about helping kids fulfill their potential?
BI: Expose your kid to anything because you never know what they'll gravitate toward.
Don't be afraid to let your kid fall flat on their face.
Pay attention to how your child learns. Every kid learns differently.
Barrington Irving is on Facebook.
Jenée Desmond-Harris is a contributing editor at The Root.
Also see 4 Questions With Anthony Hamilton; the singer performed at UNCF: An Evening of Stars.