I know, I know... I stood you up for Valentine's Day. But will you forgive me if I strip down?
Do you know how much it costs to get Alicia Keys' "no makeup" look? According to Keys' makeup artist Dotti, around $455, from start to finish. That's not because Keys is cheating, but because fresh-faced beauty is as much an inside job as an outside one. Keys reportedly adheres to a skin-bolstering diet and her skincare regimen is, well, regimented. But for an artist who conquered adult acne to rock minimal makeup radiance, it's likely a small price for her to pay for renewed and lasting confidence.
Now, I'm not going to lie and claim the above picture of me is an entirely no-makeup look (I tried, but no); but it is minimalist and my typical 5-minute-face. The cost? About $100 worth of products, including moisturizer, primer, light-coverage foundation, concealer, eyebrow pencil, mascara and lip balm. To those uninitiated in the ways of makeup that may sound like a lot, but for those in the know, it's the bare minimum needed to face the world looking so fresh and so clean (clean)—but not tired and splotchy.
But as Keys knows, minimal makeup requires maximum attention to your skin, and because we know that not all of The Glow Up's readers are makeup-wearers, we also wanted to explore black-owned beauty that goes beyond foundation-matching to working on the foundation of physical beauty itself.
This week, several brands swooped in to help—including a few unexpected but incredible bounties, and lesser-known beauty entrepreneurs who reached out to me via email and IG (I told you that works). I'm also consulting a few experts about what's amazing for skin in the black-owned space—and those experts can include you, so feel free to make suggestions in the comments. In the meantime, here's me and my fivehead being goofy as ever in Friday's video diary.
First up? Some gorgeous handmade soaps sent to me by Chicago-area skincare brand Champ de Fleurs (Field of Flowers). As I mentioned in Friday's video, the smell of these in the box along was heavenly—heavenly enough to make me reconsider my general aversion to bar soaps, in fact. But the bars themselves? They're so gorgeous, I'm almost afraid to use them! (I'll get over it. If I can dig into Pat Mcgrath, I can lather up with these beauties.)

G/O Media may get a commission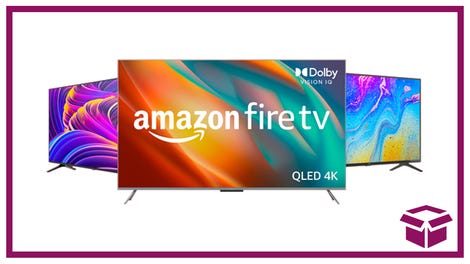 Ooh. stunning.
New Amazon Fire TVs
Founder Ginger-vee blessed me with three formulations to try: the Spa Bar, featuring lemons and eucalyptus, Cacao and Cocoa Butter blend (because, yes), and the coconut milk and oil-based Pineapples in the Night bar—which is making me crave a beachside bar right now. That's probably because all of the CDF bars are "naturally designed products inspired by Caribbean ingredients."
Now, the only thing I'm missing is a tan.
If you've been following along on this black-owned beauty adventure, you know that one of my major frustrations at the start was a seeming lack of viable deodorant options. Well, I was wrong; and speaking of tropical vibes, I got some definite ones from a pair of all-natural deodorants sent to me by Play Pits, the kid-focused mompreneur brand led by Chantel Powell. Her fragrant solid stick blends, inspired by her very active eldest son, are free of aluminum, parabens, synthetic fragrances and other harsh chemicals.
But though they're kid-friendly, Chantel promised me her formulations are strong enough for us active adults, too—and it certainly can't do me any harm to apply her shea butter and coconut oil-based blend to my sensitive and sometimes irritated underarm area. To prove it, Chantel sent me the fruity-yet-flirty Empress, one of two adult-focused collaborations with fellow black-owned beauty brand Zen in a Jar, along with her classic Suga scent ($11, 2 for $20) which is a lemon, grapefruit and lemongrass blend that I'm already in love with. You can cop the entire line of five scents for the whole family for $30 at the Play Pits website.
And though we've covered them before in this black-owned beauty dive, two bigger brands sent new offerings for me to try before the month's end, including our friends at Shea Moisture, who sent me their new natural style-extending Coconut Custard Make It Last Wash & Go line ($11.99-$13.99—which we'll dig into when we discuss hair later this month). They also rounded out my collection of their detoxifying African Black Soap and Bamboo Charcoal skincare lines ($3.99-$15.99)—including a much-needed sheet mask, which I'm planning to wear as I pack boxes for my upcoming apartment move. (Because moving is stressful!) What I'm super-excited to try? Their 100% Virgin Coconut Oil In-Shower Body Conditioner ($10.99), which I'm hoping may take the place of my former in-shower lotion for good.
But just when I was swooning over Shea Moisture's generosity, Alaffia said, "hold my beer." The fair trade, ethically-produced brand, which won major points from me for both its Repair & Restore hair collection ($9.50-$18.50) and its Coconut Reishi deodorant in Lavender and Charcoal ($5.99) clearly wants us to know that hair care isn't their only game, not only sending me more Repair & Restore and deodorant options but their new lines of Age-Defying skincare ($18-$32.50; $83.60 for the set) and Baobab Rooibos collection for dry skin ($11.99-$28.99; $75.01 for the set). Both lines include some essentials I've been longing for during this challenge, like a facial scrub, serum, and facial oil. Suffice to say, you'll be hearing about those this coming week... and much more.
I mean, I didn't have a valentine this year, but damn if this didn't feel like love.
The Glow Up tip: Black beauty entrepreneurs, it's not too late to submit samples to our Black-Owned Beauty Month challenge. DM me on Instagram or contact me at tips@theroot.com!