Black Lives Matter activist Greg Akili filed a $4 million federal civil rights lawsuit against the city of Los Angeles and the Los Angeles Police Department Tuesday, claiming that he was wrongfully arrested during a contentious meeting of the Los Angeles Police Commission last year.
The suit is a result of incidents that happened at the Feb. 9, 2016, meeting, where Akili and other BLM activists reportedly refused to sit down and stop shouting denunciations of commission President Matt Johnson, according to KPCC.
Johnson gave Akili, 68, a "last warning" to sit down, and in response, Akili stood up, pointed at Johnson and told him he had no right to tell activists to be quiet.
LAPD officers escorted Akili out of the building, and he was subsequently arrested, although it was for allegedly grabbing a female officer and not for disrupting the meeting.
The city attorney charged Akili with misdemeanor battery, and after he refused to take a plea deal, the city took the case to trial, where a jury convicted Akili of resisting arrest but could not reach a decision on the battery charge.
G/O Media may get a commission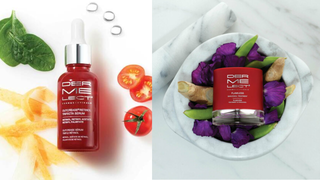 Save $19
Retinol Renewal Kit
Outside police headquarters Tuesday, Akili told KPCC that his arrest had nothing to do with battery.
"I wasn't arrested for anything but upsetting and disrupting the meeting," Akili said, "and there's no law against that."
According to KPCC, the city attorney's office is reviewing Akili's lawsuit. In the meantime, Akili remains a familiar face at police-commission meetings.
On Tuesday he was asked to leave the session after loudly proclaiming that the LAPD "is the most murderous police force in the country."
Allow me to add some further context here. I have attended meetings of the Los Angeles Police Commission, and I can say firsthand that the LAPD creates an entirely hostile environment at meetings of an oversight committee that is supposed to be "reflective of the community at large," according to its website.
LAPD officers line three of the four walls in the room, stand with aggressive postures and are ready to act if you so much as cough too loudly in that room.
They stand there like bouncers, and anytime someone from the community gets up to speak, you can tell they are champing at the bit, ready to react at the slightest indication that someone is considered a "problem" by Johnson or any of the other four people on the commission.
They definitely don't make it seem that they are really receptive to hearing the community's concerns, and in fact seem more worried about enforcing the speaking-time rule. It's disgusting.
Akili and other BLM protesters attend those meetings regularly, but they are not the only members of the community who speak out against the LAPD at the meetings; they are just the most targeted, in my opinion.
Read more at KPCC.