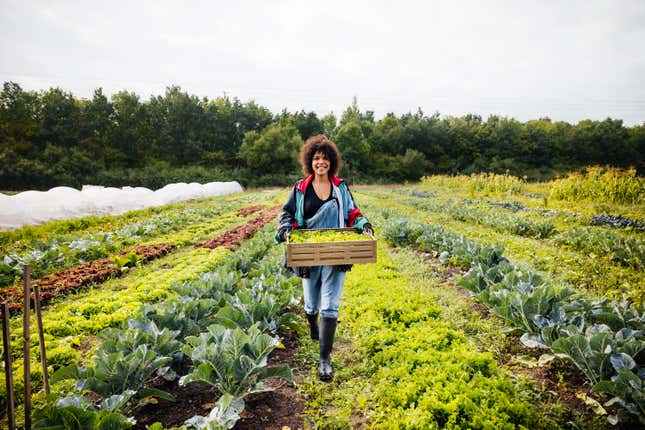 It's no secret that Black farmers have faced decades of discrimination in the United States. But we don't have to go as far back as sharecropping to look at the myriad of ways this country has mistreated Black Americans who help put food on all of our tables.
An NPR analysis this year found that Black farmers receive a noticeably lower share of direct loans given to farmers. Their findings align with a similar 2021 analysis from CNN News, which found that Black and Asian farmers were more likely to be rejected for loans than white farmers. All of this is to say that the U.S. Department of Agriculture doesn't have a great track record of treating Black and other minority group farmers well.
But a new program could help even the scales a bit. On Friday, the USA began accepting applications for financial relief for farmers who've faced discrimination. (You can click the link here to apply). The program is offering farmers up to $500,000, although it's worth noting that the USDA told CNN that applicants are unlikely to receive that full amount.
Applications for relief funding will be open until October 31st. According to the USDA, the applications will be reviewed in November and December, and payment will be sent out "soon thereafter." The department says that the payments will not be sent or considered on a first-come-first basis. In order to qualify, the discrimination has to have taken place before January 1st, 2021.
This isn't the first time the Biden administration has attempted to pay restitution to farmers facing discrimination. Debt relief payments were originally supposed to go to farmers of color under the 2021 Covid relief package. However, white farmers filed a lawsuit arguing that it would have been racially discriminatory against them. The courts agreed and blocked that measure. This new relief money, which comes as a part of the Inflation Reduction Act, is available to anyone who can prove discrimination, regardless of their race or background.
Although this money certainly won't right decades of injustices against Black farmers and other racial minority groups, it appears to be a step in the right direction.