Nicole L. Cvetnic is The Root's multimedia editor and producer. 
When Marvel Studios announced that Chadwick Boseman would be playing the Black Panther—the movie studio's first solo lead of color—the actor joined Michael B. Jordan, Dwayne Johnson and Ray Fisher on a list of black actors who are set to appear in upcoming comic book movies.
This got us thinking about all the black actors and actresses who have portrayed superheroes and supervillains in some of Hollywood's biggest movies. Some have played characters who are black in the original comic books, and others have assumed roles that were originally white characters. But in a universe dominated by white superheroes, it is exciting to see black talent break barriers without the use of a vibranium suit.
Wesley Snipes
G/O Media may get a commission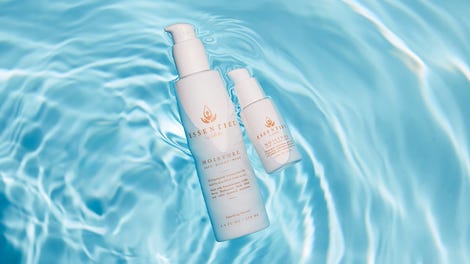 20% off
Essentiel by Adele
Blade, 1998; Blade II, 2002; Blade Trinity, 2004
Snipes' character, based on Blade in the Marvel Comics Universe, is a human-vampire hybrid who protects the mortal race from vampires. Some would argue that Blade was Marvel Studio's first solo lead of color, but the first film was co-produced with New Line Cinema.
Zoe Saldana
Guardians of the Galaxy, 2014
Saldana plays Gamora, the adopted daughter of supervillain Thanos. The last of her species, she has superhuman strength, agility and an accelerated healing factor.
Chadwick Boseman
Black Panther, 2017
Boseman will play T'Challa, an heir to the throne of Wakanda, a fictional African kingdom where the rare metal vibranium (used to make Captain America's shield) can be found. After inheriting the throne, he is crowned the Black Panther and receives superhuman senses, speed and strength. It should be noted that the Black Panther is the first major black superhero in mainstream comics.
Anthony Mackie
Captain America: The Winter Soldier, 2014
Mackie portrays Sam Wilson, aka the Falcon, a former military paratrooper skilled in air combat. He teams up with Captain America to face assassin the Winter Soldier.
Samuel L. Jackson
The Avengers franchise
As S.H.I.E.L.D. Director Nick Fury, Jackson has appeared in nearly all the movies linked to Marvel's Avengers characters: Iron Man, 2008; Iron Man 2, 2010; Thor, 2011; Captain America: The First Avenger, 2011; The Avengers, 2012; Captain America: The Winter Soldier, 2014; and Avengers: Age of Ultron, 2015. Although Jackson didn't appear in any of the Hulk movies, Fury's name is seen on a government document during the opening credits of 2008's The Incredible Hulk. In the comic books, Fury is white.
Idris Elba
Thor franchise
In 2011's Thor, Elba played Heimdall, the all-seeing and all-hearing guardian sentry of Asgard, the mythological home of Thor and his family. Heimdall is also depicted as white in the comic books. Elba, who also appeared in Thor: The Dark World in 2013, will reprise the role in Avengers: Age of Ultron in 2015.
Halle Berry
X-Men franchise and Catwoman, 2004
Berry has played Ororo Munroe, aka Storm, in the X-Men movies. Storm is a powerful mutant with the ability to control the weather, which is dictated by her emotions. As the titular character in Catwoman, Berry played a graphic designer for a cosmetics company who develops the speed, reflexes and senses of a cat after she is mysteriously brought back to life after the cosmetic firm's thugs kill her.
Michael Clarke Duncan
Daredevil, 2003
Duncan played supervillain the Kingpin, who is the most feared and powerful crime lord in New York City. The Kingpin is white in the comic book, and Duncan was worried that fans wouldn't accept his role in the movie. In a 2003 MTV interview, he said, "They watch movies to say, 'Hey, that's not like the comic book.' But I want them to get past that and just see the movie for what it is and see me for what I am—an actor."
Michael B. Jordan
The Fantastic Four, 2015
In this reboot of the Fantastic Four film franchise, Jordan will play Johnny Storm, aka the Human Torch, a founding member of the Fantastic Four who gained his powers on a spacecraft bombarded by cosmic rays. Jordan's casting caused some backlash, since it's the first time an African American is playing the Human Torch, who is a white character in the comics.
Michael Jai White
Spawn, 1997
Al Simmons, played by White, was an elite assassin murdered by his evil boss. Simmons was then damned to hell but made a deal with one of the Lords of Hell to return to Earth as Spawn to avenge his death and see his wife again.
Shaquille O'Neal
Steel, 1997
Shaq played superhero John Henry Irons, aka Steel, who wears a special robotic suit that gives him superhuman strength. He also wields a sledgehammer and fights crime alongside Superman in the DC Universe. Some say Steel was inspired by the African-American folk hero John Henry, the steel-driving man.
Rosario Dawson
Sin City, 2005; Sin City: A Dame to Kill, 2014
Based on Gail in the Sin City comic book series, Dawson's character is a dominatrix and member of the Girls of Old Town, who uses seduction to lure men to their doom.
Jamie Foxx
Amazing Spider-Man 2, 2014
Foxx plays Maxwell Dillon, aka Electro, an electrical engineer-turned-supervillain who obtains the ability to control electricity after accidentally falling into a large tank of electric eels.
Will Smith
Men in Black franchise
Smith has played Agent J, a former New York City detective who joins secret organization MIB to police extraterrestrial affairs on Earth.
Don Cheadle
Iron Man franchise
James "Rhodey" Rhodes, an Army colonel and highly trained agent played by Cheadle, works for the government and possesses his own superhuman iron suit, made by Tony Stark, called War Machine. Cheadle will reprise the role in Avengers: Age of Ultron in 2015.
Dwayne Johnson
Shazam, 2019
Johnson will play Black Adam, the immortal, power-hungry son of an ancient pharaoh who is the archnemesis of Shazam, also known as Captain Marvel.
Terrence Howard
Iron Man, 2008
In the first Iron Man movie, Howard played Tony Stark's best friend and ally, Col. James Rhodes, who possesses his own iron suit, called War Machine. Don Cheadle replaced Howard in later Iron Man films.
Ray Fisher
Batman v. Superman: Dawn of Justice, 2016
Fisher will play Victor Stone, the son of two scientists, who becomes the superhero Cyborg and a member of the Justice League. Fisher is also set to appear in The Justice League Part One in 2017 and Cyborg in 2020.
Like The Root on Facebook. Follow us on Twitter.