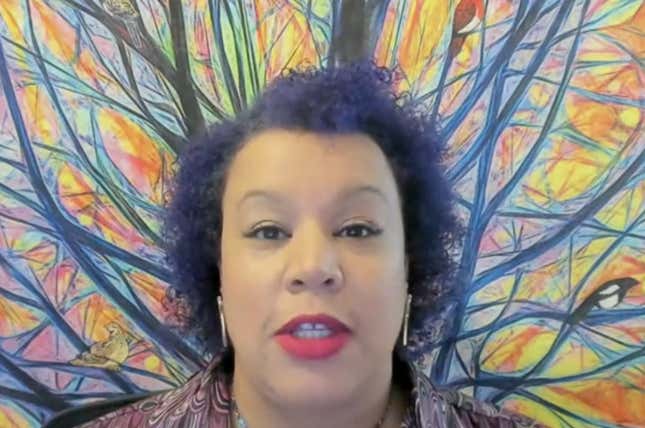 A recently fired Diversity, Equity and Inclusion (DEI) director at a California community college is now suing the institution, accusing them of hindering her right to free speech after she believes she was targeted for not being the "right kind of Black person."

Tackling A Black Maternal Health Crisis & Embracing Reproductive Justice | The Root Institute
Dr. Tabia Lee, who is Black, was hired as a full-time DEI Director at De Anza Community College in Cupertino, California, in August 2021. She was fired from her position back in March 2023 "because of De Anza and the District's ideological opposition to Dr. Lee's humanism in the classroom," her complaint states.
According to Inside Higher Ed, Lee says she lost her job because she "questioned antiracist "orthodoxy," objected to the college's land acknowledgments for an Indigenous tribe, tried to bring a "Jewish inclusion" event to campus, declined to join a "socialist network," refused to use the gender-neutral terms "Latinx" and "Filipinx," inquired why the word "Black" was capitalized but not "white," and allegedly disrespected a founder of the Black Lives Matter movement." And while free speech gives her the right to question all of those things, it probably should have been the first clue that she wasn't really on board with De Anza's idea of DEI.
In an interview with Fox News' Harris Faulkner, Lee said her approach is to bring people together and encourage critical thinking. But Lee said encouraging the students to think for themselves made her a target for not going along with the campus orthodoxy which she described as "excessively woke."
Dr. Lee's July 10 lawsuit filed against the college alleges she encountered a hostile work environment at De Anza, where she was accused of not being the "right kind of Black person." She says she was accused of "whitesplaining" and being a white supremacist.
Read more from Dr. Lee's complaint:
"She happens to be Black, but first and foremost, Dr. Lee is a teacher dedicated to humanism and civil rights. She teaches that people should not be judged by the color of their skin but by the content of their character. De Anza is hostile to this concept." It says Lee's thinking was opposed to "unchangeable attributes ascribed by characteristics of race and gender beloved by De Anza's race and gender ideologues."
"These are people who should definitely know better," Lee said in an interview with Newsweek. "And the way that they behaved was what they claim other people do to marginalized people. They literally marginalized me as an individual, and they shunned me and they worked really hard to push me out."