A selfie. An argument over a selfie at a bar on the Greek island of Zakynthos is what led American tourist Bakari Henderson to be beaten to death by some 15 men, police are saying.
According to the Washington Post, the confrontation began after Henderson, who was on vacation with friends, asked to take a picture with a waitress. Somehow that request turned into a fistfight that involved other customers and two bar employees, Greek police spokesperson Theodore Chronopoulos said.
Surveillance footage from nearby shops showed the suspects beating Henderson even after he was rendered unconscious. The 22-year-old, who recently graduated from the University of Arizona with a bachelor's degree in business finance and entrepreneurship, was later pronounced dead at a hospital.
Chronopoulous said that Henderson was beaten to death in a span of just 30 seconds.
G/O Media may get a commission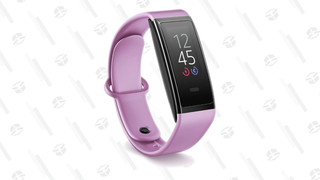 44% Off
Amazon Halo View Fitness Tracker
"They kicked and punched him to his body and his head," he said. "His death came from hits in his head."
So far, nine men have been arrested and charged with intentional homicide in the brutal beating.
The fight occurred during a night the bar devoted to Serbians. One of the suspects, a 33-year-old Serbian, reportedly got into an argument with the waitress over the selfie. He hit Henderson, who then smashed a beer bottle on the other customer's table, Chronopoulos told the Post. After that, some 10-15 men chased Henderson outside the bar, viciously beat him and left him lying there.
The Post notes that the police narrative of what happened that day differs from what Henderson's friends have said of the incident. One of the three friends who were with Henderson, Daniel Brown, told ABC News that they were all minding their own business when the other men lashed out at Henderson.
Jan Richardson, Henderson's aunt, who is speaking on behalf of the family, said that the family have yet to get any clear details from investigators about what happened to the young man, who had a bright future ahead of him.
"There'd been lots of rumors floating around," she told the Post. "We don't have any official notice of what happened other than the fact, of course, that he was killed."
Henderson's friends have created a GoFundMe page to raise money for his funeral and for transportation costs to return his body home. As of Wednesday, more than $50,000 of the $80,000 goal has been raised.
Richardson said that the family hopes to have Henderson's body back in the United States sometime this week.
Read more at the Washington Post.