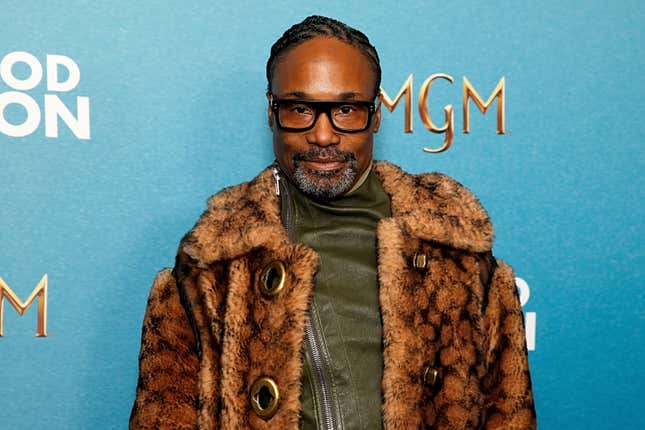 The life and work of civil rights icon, activist and writer James Baldwin will be headed to a big screen near us soon and it's set to star one of Hollywood's biggest stars: Billy Porter.
Emmy, Grammy, & Tony Award-Winner, Billy Porter, Plays That's So Random
According to Variety, the unnamed project will see the Pose actor in the lead role of Baldwin as well co-writer for the forthcoming feature alongside Dan McCabe. The biopic—which is said to be an adaptation of the 1994 book James Baldwin: A Biography, written by one of Baldwin's longtime friends, David Leeming—will also be executive produced by Byron Allen's Allen Media Group.
"As a Black queer man on this planet with relative consciousness I find myself, like James Baldwin said, 'in a rage all the time.' I am because James was," Porter said in a statement. "I stand on James Baldwin's shoulders, and I intend to expand his legacy for generations to come."
Added Allen in part: "Billy Porter and Dan McCabe's talent and commitment to amplifying James Baldwin's legacy and contributions are invaluable and unmatched for this unique and epic story."
Once news of Porter's involvement hit the internet, many took to Twitter to express their mixed reactions on the casting choice.
"It's important to give gay actors the opportunity to play biopics for historical gay people," wrote one user. "I'm not sure if Billy Porter was the best casting for this role but I'm willing to give him a chance."
"My thing is did they cast Billy Porter as Baldwin bc of star power? To have a name attached? Bc the life of Baldwin as a film is enough of a draw at the box office in the indie market you're shooting for anyway… like you could have cast a newish actor, why Billy?," said another.
Another user penned: "Love Billy Porter, but the casting director is really gonna have to help him tone it down for this role…"
However, some were a bit more hopeful that the Tony, Grammy, and Emmy-winning actor has what it takes do a phenomenal job.
"Billy Porter as James Baldwin is kind of difficult to imagine for me but he's talented so I'm open to surprises," said one user.
"Billy Porter is perfect for this role omfg," said another.
Wrote one user: "Of course, Twitter is negative per usual. I give good spirits to the Legend Billy Porter as he embarks on this new acting endeavor."
Baldwin's life and career was most recently centered in the 2016 Oscar-nominated and BAFTA Award-winning documentary, I Am Not Your Negro.