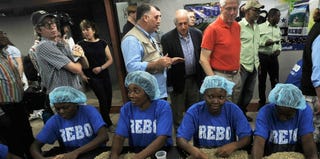 Former President Bill Clinton touched down in Haiti on Sunday for a two-day visit to help promote investment in the struggling nation's agriculture sector, the Associated Press reports.
Clinton, who serves as the United Nations' special envoy to Haiti, arrived with a delegation that will visit an agriculture school, a coffee-processing plant and a brewery, according to the AP. In addition, he is expected to announce several grants from his Clinton Foundation during the visit.
Investments are important to the nation, which in January marked the third anniversary of an earthquake that destroyed scores of buildings and displaced untold numbers of citizens.
Read more at the Associated Press.