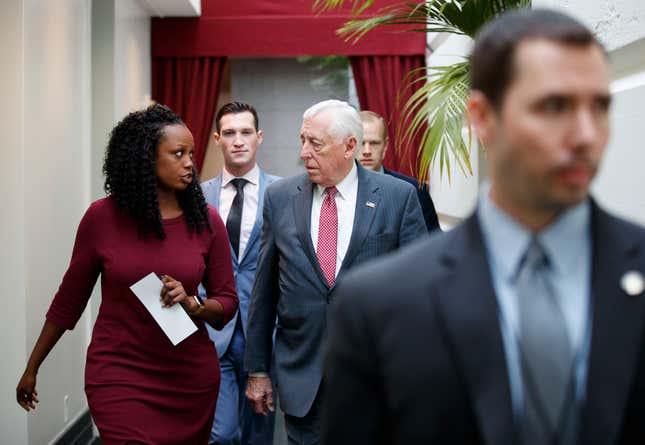 Updated 07/25/2023 at 9:45 a.m. ET

Black women continue to shake things up in the Biden White House. For the first time in history, a president is putting a Black woman in charge of pushing his legislative agenda through Congress.
The Biden And Trump Classified Documents Scandal Explained
On Monday, President Joe Biden announced the appointment of Shuwanza Goff as Director of the Office of Legislative Affairs. Goff is a familiar face in the administration and on Capitol Hill. Before her brief exit from the White House to join a D.C. lobbying firm, she served as Deputy Director of Legislative Affairs.
"As my Deputy Director of Legislative Affairs, Shuwanza helped pass monumental pieces of legislation through Congress: from the American Rescue Plan and the Bipartisan Infrastructure Bill to the Chips and Science Act and the Inflation Reduction Act," said Biden in a statement about her appointment. "Shuwanza's close partnership with my decades-long friends in the House and Senate, and her expertise, instincts, and deep respect for the United States Congress will continue to serve our Administration and the American people well."
Goff's, 38, is regarded as a Capitol Hill vet with a reputation for building relationship and helping Democratic lawmakers push their agendas. Her appointment puts her among several Black women—including Vice President Kamala Harris, to Associate Supreme Court Justice Ketanji Brown Jackson, to Council of Economic Advisers Chair Cecelia Rouse—to be nominated or hired for their positions for the first time.
Her appointment also comes at the start of a likely bitter campaign cycle, a period when previous administrations have shifted their focus away from passing major pieces of legislation and toward running on their records.

In an interview with The Root, longtime Biden ally Rep. Jim Clyburn (D-S.C.) lauded Goff's work in Washington, calling her "very astute politically," and pointed to the passage of signature pieces of Biden's agenda including a $1 trillion infrastructure spending bill, the American Rescue Plan and the Inflation Reduction Act. But he stopped short of saying he didn't expect any major legislative pushes from the White House.
"What we've demonstrated in the past several months is that the president's agenda—Bidenomics, whatever you want to call it—is working. Black unemployment is lower than it's been in decades, unemployment overall is lower," he said. "We've just got to implement what is already in place."